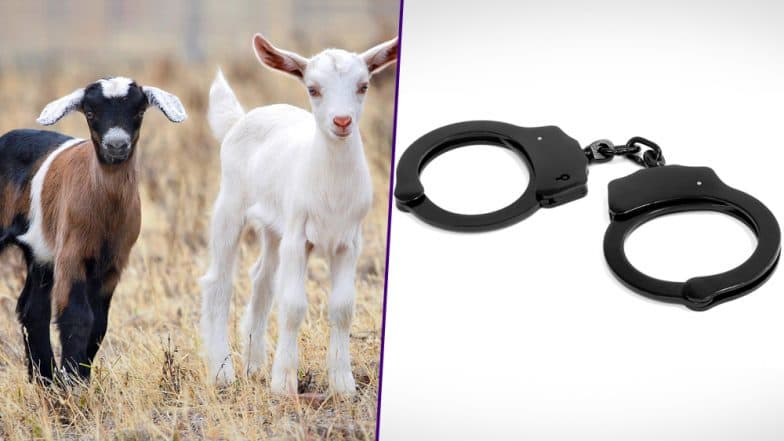 In a strange case police case, two goats were taken into custody after they grazed on saplings planted by an environmental organisation. Telangana police "arrested" two goats after they were allegedly found grazing on saplings planted by a voluntary, environmental organisation in Huzurabad, Telangana. The FIR was filed against the goats after the organisation, "Save the Trees" complained against the goats. They also claimed that the goats had allegedly eaten 250 out of the 900 trees that they had planted as per reports by News18. The owner had to end up paying Rs 1,000 to the authorities, only after which they were released. The owner also had to make a promise that he would feed the goats at home. Cows Help Police Arrest a Criminal by Chasing and Cornering Her in a Field in Florida (Watch Video). 
Here Are Some of The Reactions The News Got on Twitter:
LOL
Two goats arrested in Telangana, Two frogs divorced in Madhya Pradesh. Matlab khabar toh hai. pic.twitter.com/dhQqwJ5uxd

— Kabeer Sharma (@ka_beer) September 12, 2019
Unbelievable
two goats were arrested in telangana eating sapling plants in government office pic.twitter.com/al3h0WPl3K

— Nandni Mishra (@NandniMishra7) September 12, 2019
The Owner Had to Pay a Fine
"Two goats 'arrested' in Telangana for eating saplings planted by govt"

The goats were freed after their owner paid a fine of Rs 1,000.@KTRTRS pic.twitter.com/B83W90jysH

— Rajeshwar Munnuru (@Yours_RR) September 12, 2019
This is not the first time a goat has been arrested. A goat was arrested in the year 2016 and was said to be facing seven years in prison because it grazed on a neighbour's lawn in Chattisgarh. Police had said that the goat was "a repeated offender". The goat's owner, Abdul Hassan was also arrested and was facing the same charges.