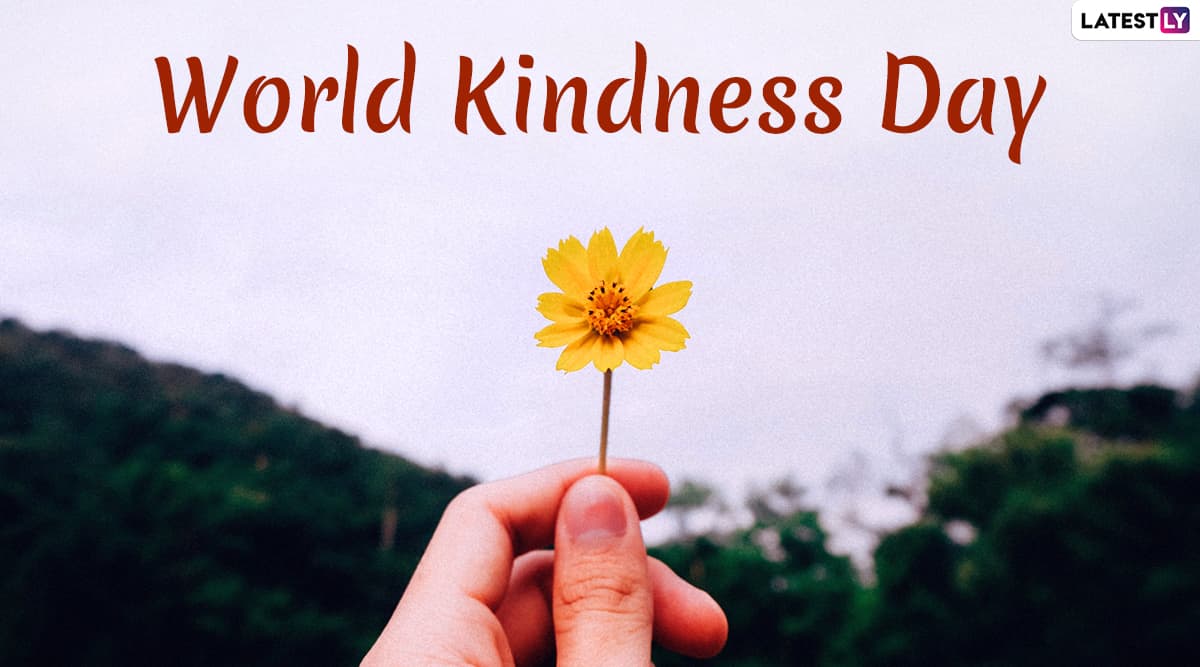 Today is World Kindness Day, an international event which is observed on November 13 every year. The day was introduced in 1988 by the World Kindness Movement—a coalition of nations' kindness Non-Governmental Organisations (NGOs). World Kindness Day is observed to highlight the significance of doing good deeds in society that binds all human beings together. It is an important event, and Twitterati is sharing various World Kindness Day 2019 quotes, wishes and greetings urging everyone to do good deeds. The thoughtful messages and images will remind you why it is important to be kind to others and how it develops the society as a whole. Kindness will make everyone feel loved, and such act helps an individual in a significant way, which is why World Kindness Day 2019 wishes and greetings are trending online. World Kindness Day 2019 Date: History and Significance of This Observance Which Aims at Promoting Good Values. 
Kindness is a give and get thing, a more like respect. Just like respect, if you want kindness, you will have to share some. Besides, it also makes you feel delighted. Even a small act of kindness can throw a major impact on society. You may not even have an idea of how such behaviour can help any person or animals to grow in their life. World Kindness Day 2019 is a reminder that it does not take much of your time to be kind and generous once in a while, to say the least. World Kindness Day 2019 Quotes: Sayings About Kindness That Are Not Only Instagram-Worthy But Also Serve as True Life Lessons. 
The many words of kindness and its quotes shared on Twitter are great examples that highlight the importance of being kind. Let your thoughtful gesture shed a greater impact on someone's life with these World Kindness Day 2019 wishes being shared on social media.
Check Tweets:
From plants and trees to humans and wildlife be compassionate towards our planet this #WorldKindnessDay 🌏💚 pic.twitter.com/PBLyhIiAPo

— Chandler Powell (@chandlerpowell9) November 13, 2019
A Day Filled With Kindness!
We hope your day is filled with kindness! #WorldKindnessDay pic.twitter.com/13l32TnQi9

— Alzheimer's Association, Central and North Florida (@alzcnfl) November 13, 2019
But First, Be Kind to Yourself!
Today is #WorldKindnessDay - what kind act will you be doing for yourself & others today?

We love these different ways to be kind by @ChibirdArt. pic.twitter.com/CnoxDNtqBl

— Mental Health First Aid England (@MHFAEngland) November 13, 2019
Great Words:
"Three things in human life are important: the first is to be kind; the second is to be kind; and the third is to be kind." ~Henry James

Happy #WorldKindnessDay pic.twitter.com/UNgZ0vXj9e

— Fiona Bateman (@feebateman) November 13, 2019
There is Kindness Within Us!
Today is #WorldKindnessDay 💕

We each have the potential to improve each others lives through understanding and kindness. Whether it's a friend, family member, coworker or stranger, our ability to show our humanity should have no limit pic.twitter.com/ir5fVKxkMm

— Sven (@SvenRoyalChef) November 13, 2019
Be Kind, to Everyone!
Be kind to every living creature on this planet 🌍💚 #WorldKindnessDay pic.twitter.com/yAECkTez0K

— Omar (@Omar_Mheiri) November 13, 2019
The above tweets are an excellent compilation of why we should be kind and caring towards society. Such behaviour is not challenging at all. There is kindness and generosity within everyone. You just need to identify that in you and encourage others to lead the joyous life. Kindness is a fundamental part of the human condition which bridges the divides of race, religion, gender and everything. But first, be kind to yourself!