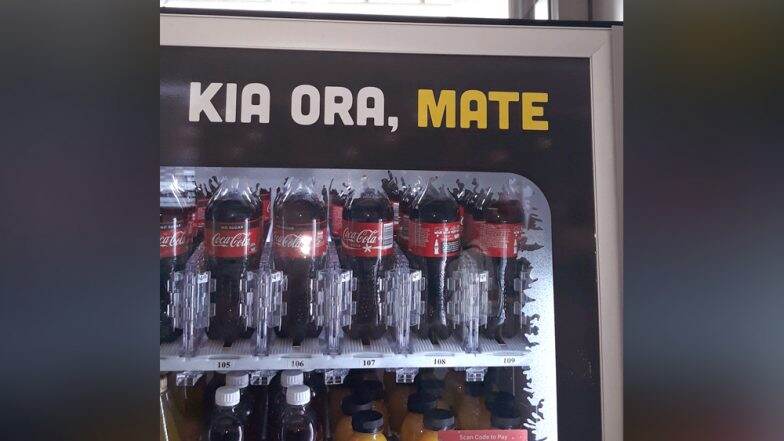 Coca-Cola is people's go to drink. Despite several reasons cited by the health experts as to why one should not consume, it remains at the top list probably for its sweet and bubbly taste. Informing you that Coca-Cola is rich in sugar is nothing new, it appears that the brand itself in a recent move cautioned the consumers in New Zealand. Surprised? Well, in an attempt to incorporate the two languages—English and te reo Maori, the company accidentally wrote, "Hello Death" on one of its vending machines. As hilarious as it sounds, netizens are going crazy over it, with their humour on point. Coca-Cola Interested in Cannabis-Based Drink Meant Not For Intoxication But Pain Relief. 
Above the marketing bigwigs, the company decided to write, "KIA ORA, MATE." 'Kia Ora' is a Maori greeting, one of New Zealand's official languages. The confusion came from mixing the common phrase with the English word 'Mate'. It turns out, 'mate' means 'death' in te reo Maori. Naturally, social media users cannot keep their calm. History of Coca-Cola and McDonald and True Story of Their Founders. 
"When the languages don't mix well," tweeted one user.
When the languages don't mix well. pic.twitter.com/3piZIoptAE

— Waikato Reo (@waikatoreo) October 14, 2018
Individuals also mocked that the beverage-maker was owning up to impacts the cold sugary drinks could have on the native community. Times reported citing health survey of 2016-17, that New Zealand has the highest obesity rates in the developed world, "with one in three adults categorized as obese." On the other hand, Te reo Maori is gaining popularity, and big business has taken note. Guardian states that Google has launched a Maori version of its website, Google Maps is recording accurate Maori pronunciations, and even Disney has released a Maori version of the hit film Moana. But coca cola's attempt to use the popular tongue, has fallen flat.