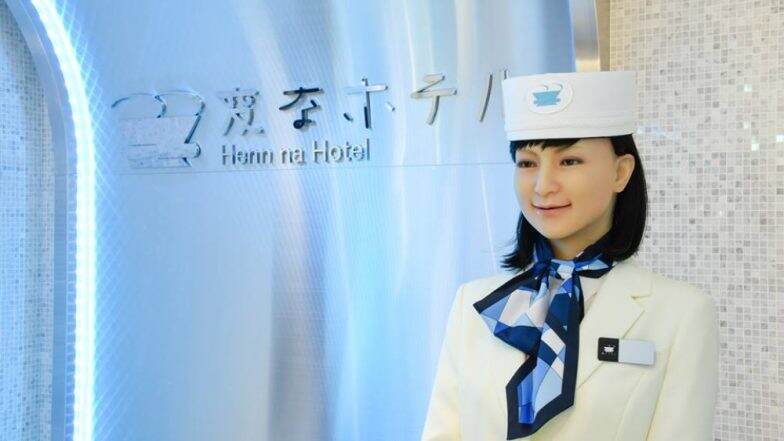 Japan's Henn na Hotel ("Strange") which had hired robots to take care of guests were fired recently. Henn na located in Tokyo removed 243 of their robot staff as they began to create more problem than solve them. Hotel manager Takeoshi Oi said that robots did not understand certain things. For example, he said that if they would wake up sleeping guests who would be snoring thinking they were asking for something.
Explaining the layoffs the company president Hideo Sawada said that there were multiple limitations in the working of robots. There were situations where robots "aren't required" and sometimes "annoy people" for nothing. Another practical difficulty was that they could not handle moisture and by no chance, handle rains according to a report in The Wall Street Journal. Tokyo's Henn Na Hotel Reception Desk Is Run by Dinosaur Robots! Watch Video
Watch the video below:
Atsushi Nishiguchi, a guest at the hotel in 2017 said that when the robot in his room didn't understand him, he decided to call the reception. However, there was no phone in the room as the assistant was supposed to handle guests. You would be greeted by a pair of giant dinosaurs which look right out of a Jurrasic Park movies at the front desk. When a person approaches, their sensors detect motion and greet them. Customers can choose to speak in different languages like Japanese, English, Chinese or Korean.
The hotel that opened in 2015 in Sasebo's Huis Ten Bosch theme park near Nagasaki even earned a Guinness World Records for being the only hotel run by artificial intelligence. Each room named 'Churi' was among the first to be fired as guests complained it didn't know answers to basic questions. A travel agency group which operates the chain runs right hotels across the country. When the hotel was launched there were 80 robots including human and dog robot dancers, but guests said they were often broken down.