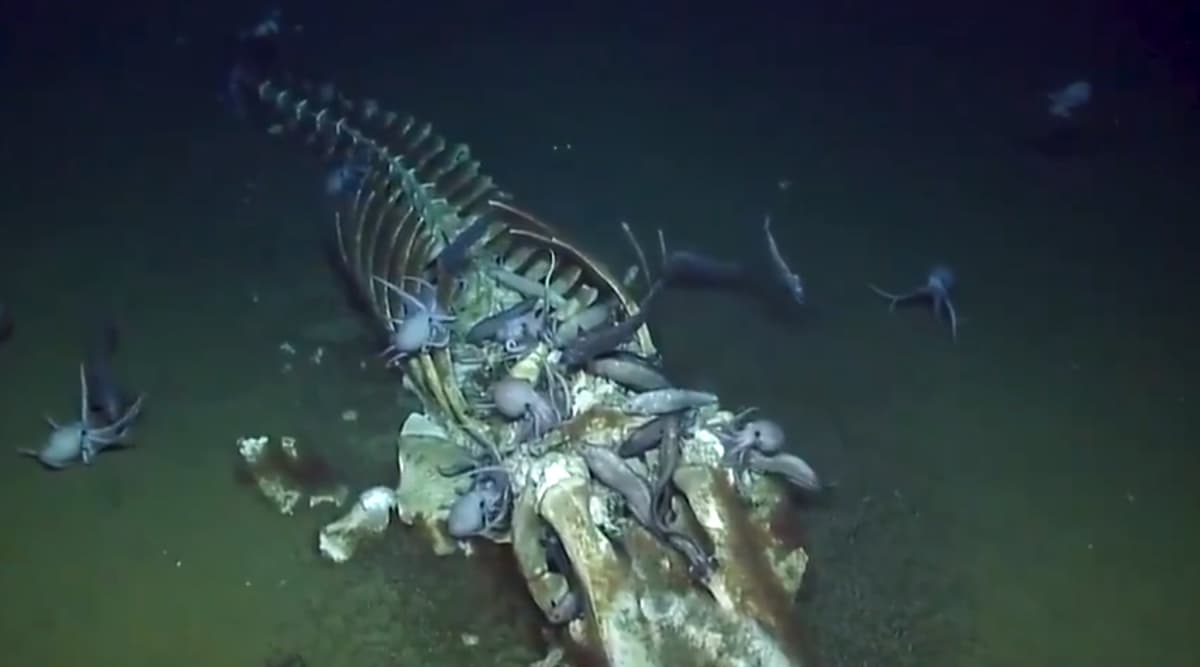 A group of marine scientists have stumbled upon rare skeletal remains on the seafloor. While in search of oceanic discoveries, the researchers found a long whale carcass. The pictures and video were all captured through an E/V Nautilus. With tiny bits of flesh still adhering to the bones, the dead body attracted tons of other marine lives that include worms, octopuses, eels, bone-eating worms and many more. The researchers have live-streamed the entire moment, clips of which are now going viral. The whale fall is reportedly located off the coast of California. Sperm Whale That Releases Red Ink Made of Faeces Washes Up on UK Beach. 
Scientists often aboard the Nautilus to explore and study the ocean beds. When a whale dies, it remains called a whale fall provide food and other essential nutrients to the ecosystem on the seafloor. This is what has been captured by the marine divers. The whale fall is located near the Davidson Seamount in the Pacific Ocean. The camera onboard to the remotely operated vehicle took the footage of the skeleton, which is being hunted by numerous sea creatures. Dead Humpback Whale Found in Amazon Jungle! Scientists Are Figuring How it Got There. 
Watch the Viral Video:
During a deep-sea dive, these scientists were stunned to undercover whale carcass covered with octopuses, eels and bone-eating worms. https://t.co/tlhe8Uzraz

— Twitter Moments (@TwitterMoments) October 16, 2019
When a giant whale dies and falls on the seafloor, its carcass serves as a quick meal to the ecosystem. But when the sea animal falls below the depths of at least 1,000 metres, they enter into a different environment. At these depths, the carcass is exposed to a variety of sea critters who are adapted to live and find food there. The recent discovery is one such fall.
Scientists could identify the exact species. But researchers suspect it is either a grey or a minke whale. A lot of fleshy tissue can be seen still stuck on the whale's bones which helped the researchers to estimate that it likely died four months ago. Using the Remotely Operated Underwater Vehicle (ROV), the scientists reportedly would collect the samples for further study.