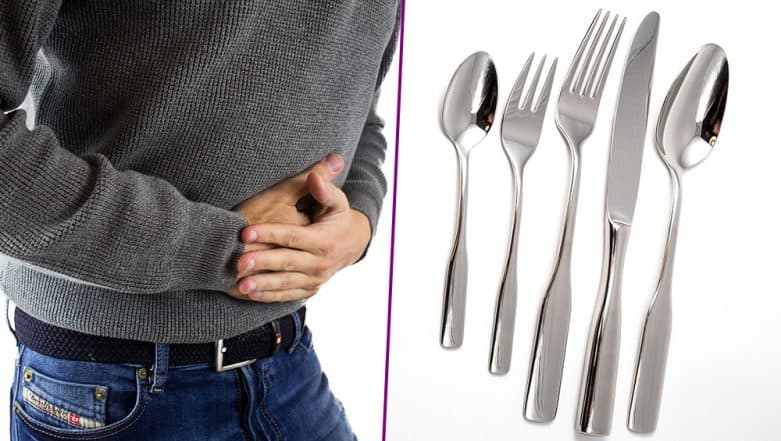 People have swallowed some of the weirdest stuff at times and it is the doctors who have a stomach-churning experience, literally! In a recent case from Cairo, doctors had to remove spoons, forks, toothbrushes and certain items of jewellery from a boy's stomach. It was a mentally ill patient who had swallowed forks, spoons, and some jewels from his house. He was taken to the doctors after he experienced severe stomach pain and vomiting. Chinese Woman Swallows 13-Cm-Long Metal Spoon to Get Rid of Fish Bone Stuck in Throat, Rushed to the Hospital.
The incident took place in the northern province of Cairo. The boy in his twenties was treated in a government-run hospital in the province of Mansura. Dr Amjad Fouad, the chief surgeon at the Mansura University's Digestive System Centre was quoted to the Gulf News, "When his health deteriorated and he suffered from constant vomiting and severe pains in the stomach, his mother brought him to the hospital where checks showed the presence of strange objects inside his stomach." Prisoner of Delhi's Tihar Jail Swallows Mobile Phone, Doctors Get it Vomited Out.
The mother had realised the disappearance of things from her house but it never occurred to her that her son might be swallowing it. The boy is said to be suffering from brain atrophy. He underwent an operation in which the doctors removed forks, spoons, a gold ring, a necklace, and seven toothbrushes. Dr Fouad who worked on the treatment said, "We rarely encounter such bizarre cases in medicine." The patient is now said to be in a stable condition.
In January this year, a 36-year-old man from Delhi has swallowed a toothbrush while he was cleaning his throat. The doctors had to remove it using endoscopy, by pulling the brush from the upper abdomen. The patient hadn't revealed to his doctors that he had swallowed it after his admission.