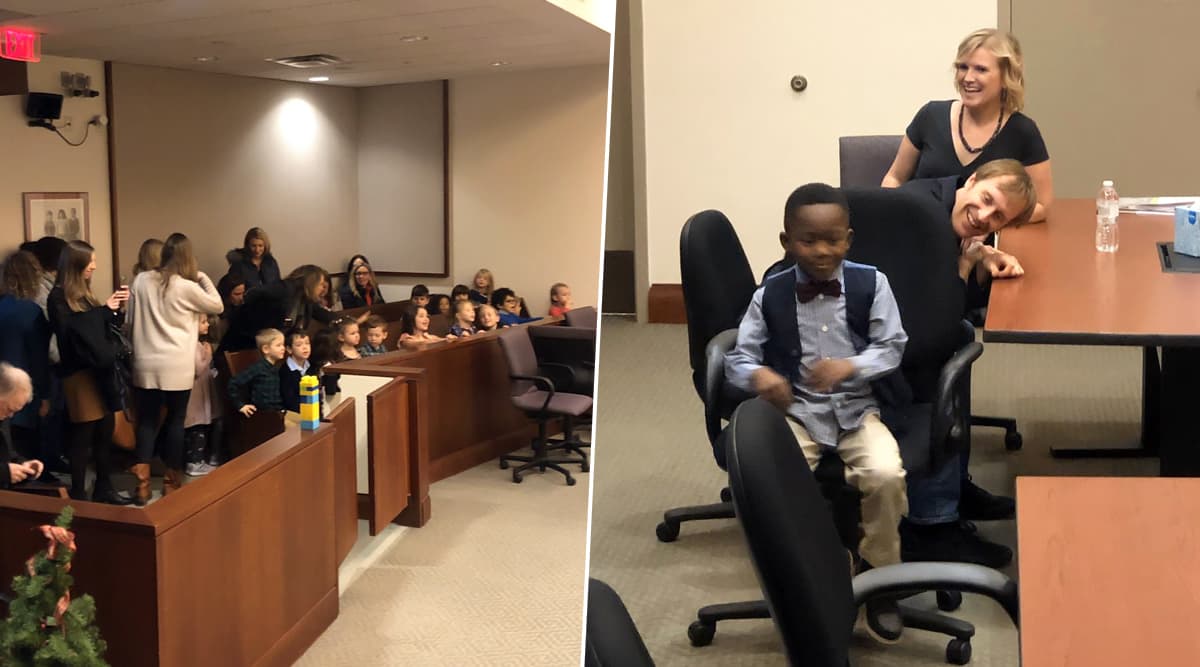 A 5-year-old Michigan boy invited his entire kindergarten class to be a part of his special day—adoption hearing. As his forever family officially adopted him, his entire friends showed up in support and celebrated with him. The pictures and videos of the adoption hearing, the little kid and his classmates and the new parents surfaced online. People cannot stop holding their happy tears. If you have not come across the clips yet, embrace yourself to witness some emotional moment. The session is sure to melt your heart, as it did to the internet users. This Adorable Video of Baby Girl With Down Syndrome Smiling Will Tug at Your Heartstrings!
The boy identified as Michael Orlando Clark Jr had been living with David Eaton and Andrea Melvin as a foster child since November 2018, noted CNN. "We didn't have any kids prior to that, and things got pretty chaotic in a hurry," Eaton was quoted in the same report. Kent County Courthouse marked its 23rd annual Adoption Day, and Michael's adoption was one of the 36 finalised adoptions that took place on the day, December 5, 2019. Eaton further reported that when he asked the 5-year-old to invite his friends to the hearing, he happily agreed as the little boy says they are like family.
Ken County officials recorded the moment of the adoption hearing on their Facebook page, which has since gone viral. Michael's teacher, Kerry McKee at Wealthy Elementary School, brought the kindergartners to the hearing to teach them about adoption and also support their classmate.
Michael's Friends Got His Back!
How Adorable!
Probably the cutest story you will ever see. A kid who's being adopted invited his ENTIRE kindergarten class to attend his adoption. @wzzm13 pic.twitter.com/tb9WC4tjVO

— James Starks (@_JamesStarks) December 5, 2019
They Even Sang the Song:
"We had them pick what color heart they wanted to bring and put them on rulers because, 'love rules'...I'm corny like that," McKee said

And then they sang the damn song 😭 pic.twitter.com/y6IaLWpsLh

— Brianna Sacks (@bri_sacks) December 6, 2019
Michael is Adopted!
The judge said that in her entire 22 years, she'd never had a class come to witness an adoption.

Here's Michael banging the gavel to signify his family was officially official and his classmates cheered and waved their heart sticks pic.twitter.com/bTnJrozIKT

— Brianna Sacks (@bri_sacks) December 6, 2019
During the hearing, when the judge asked everyone in the room to say what Michael means to them. One of them reportedly said, "I love Michael," while another said, "Michael's my best friend." Sure he is! This is one such story which just makes your day. All the blues could be shed away, when you see the happiness of the family and the kids who showered their love and support to Michael.