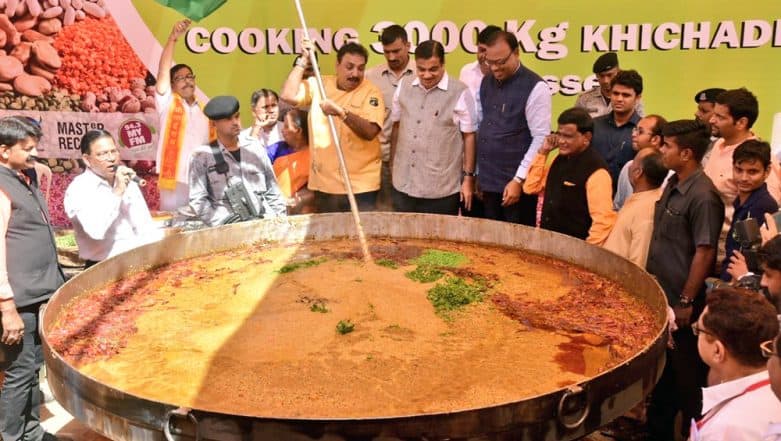 People can go to any lengths to get a world record against their name. A chef from Maharashtra's Nagpur district made 3000 kilograms of khichdi in one vessel to make a new Guinness World Record. Chef Vishnu Manohar in order to mark the World Food Day on October 16, made this attempt of record. He put a lot of emotion behind making this dish and wants it to be declared a national dish. The event took place at Chitnis Park Stadium in Mahal area of the district. 3-Year-Old From Chennai Shoots 1111 Arrows in 3.5 Hours for Guinness World Record.
It took him nearly four hours for the entire feat. He started cooking at early morning at 5.30 am and finished cooking by 9.30 am. Manohar wants to submit this record in Guinness Book, Limca Book, Asia Book and in India Book of World Records. Talking about his record to the ANI he said, "I have tried for the world record; the emotion behind it is that I want Khichdi to be declared as the national dish because people eat khichdi at every stage. It is the most healthy and affordable meal." Mr Elastic! Two Guinness World Record Holder Can Twist His Legs & Walk Backward With Ease; Watch Strange Stunt Video.
Watch Chef Vishnu Manohar Cooking Khichdi to Set a New World Record
CHEF VISHNU MANOHAR CREATES LARGEST SERVING OF BEANS AND RICE WORLD #record OF 3000 KG KHICHEDI IN ONE VESSEL AT CHITNIS PARK STADIUM MAHAL #Nagpur@timesofindia @TOI_Nagpur @SunilWarrier1 @wordsmith01 @VishnuChef @nitin_gadkari @OfficeOfNG @cbawankule @records pic.twitter.com/5VmtRI6hBF

— Ranjit Deshmukh (@RanjitVDeshmukh) October 14, 2018
His list of ingredients included 275 kgs of rice, 125 kgs of moong dal (lentils), 150 kgs of chana dal (pulses), 3000 litres of water, and 150 kgs of ghee. Not just that, to cook this Khichdi, he had to get a special vessel made to accommodate everything. To acknowledge the efforts, Union Minister for Road Transportation and Highways, Nitin Gadkari was present at the event venue. Khichdi is indeed a comfort meal for most of the people and Manohar had a good message to serve everyone. The previous record for Khichdi was held by Sanjeev Kapoor when he cooked 918 kgs of Khichdi in New Delhi.