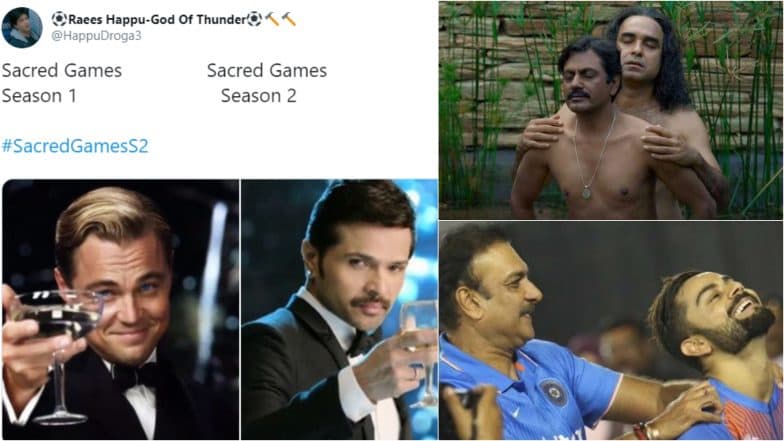 Sacred Games season 2 released on Netflix on August 15 and the show as expected has left the viewers spellbound. With a star cast featuring big names like Nawazuddin Siddiqi, Saif Ali Khan and Pankaj Tripathi, it has certainly been one of the most discussed topics on social media. As is customary, what's trending becomes an eye candy for the meme makers. One of the prominent characters in Sacred Games 2 is that of Guruji played by the flawless Pankaj Tripathi. When Guruji and Ganesh Gaitonde (Nawazuddin Siddiqui) are in the same frame, there is almost a certainty that these moments will be embedded forever in the minds of the viewers. They hit it off as 'guru-shishya', but the duo soon enter into a sexual relationship! Yes, there is a scene depicting Guruji having sex with Gaitonde! Now, this gay sex scene has become fodder for hilarious memes! Get ready for Guruji and Gaitonde memes on the (in)famous Guruji Ka Pyaar Bhi Mila scene. Sacred Games 2 Recap: From Tantric Sex to Mob-Lynching to Major Deaths, 15 Shocking Moments in Second Season of Saif Ali Khan, Nawazuddin Siddiqui's Netflix Series (SPOILER ALERT).
Pankaj Tripathi is a gem, a national treasure who should be protected at all costs. The powerful script gives the actor the chance to take the role of mysterious Guruji to new heights where his charisma is eye-catching. Guruji's stories have their own interpretations, which together with Ganesh Gaitonde's narration thickens the plot. It is the duo's several encounters on the screen that have given rise to a flood of memes. The scene where Pankaj and Nawaz's characters have sex, is now going viral as "Guruji Ka Pyaar Bhi Mila" meme. Apart from Gaitonde, Guruji is also shown indulging in sex with his aide Batya Abelman played by Kalki Koechlin. The man frequently enjoys orgies (group sex) at his ashram in Croatia! The man is dope. He is giving Kubbra Sait's Kukoo a tough competition in Gaitonde's life.
Guruji and Gaitonde Wala Sacred Games Hai Yeh!
I guess I downloaded the wrong Sacred Games pic.twitter.com/8f9EeBReWS

— InGenious (@Bees_Kut) August 15, 2019
Shastri and Kohli Wala Cricket Games Hai Yeh!!
धीरे धीरे अपुन को गुरुजी का प्यार भी मिला pic.twitter.com/OrxaFl0o5X

— Abhishek (@ImAbhishek7_) August 15, 2019
Gaitonde, You Lucky Man
Season 1 : Cuckoo ka Jadoo

Season 2 : Guruji ka Jadoo. #SACREDGAMES2 #SacredGamesSeason2 #SacredGames

— Yogesh Mithoon (@MithoonYogesh) August 15, 2019
Ok Then, Bye
Phir mujhko dheere dheere guruji ka pyar mila pic.twitter.com/BlRffh18TT

— Catty Perry (@TheSavageKat) August 17, 2019
That's How Gaitonde Ko 'Guruji ka Pyar Bhi Mila'
Ganesh Gaitonde Kuku ka pyar Guruji me dhudhte hue #SacredGamesS2 pic.twitter.com/UB5Mo1TlXU

— साकेत (@eemmature) August 16, 2019
Crazy Comparisons!
Apun ko guruji ka pyar milta rahega pic.twitter.com/H5pMmSBRCr

— Sudhanshu (@sudhanshu25_) August 16, 2019
Sacred Games has violence, cuss words, downright funny to bizarre visuals, which is currently flooding on social media as memes. Some of the memes have also focused on why season 2 was a poor show in comparison to its first one. Now, this could be due to the fact that the ending is abrupt and fails to answer many questions – one, in particular, involves if Sartaj Singh played by Saif has indeed saved Mumbai. Let us look at some of these hilarious memes involving Sacred Games 2 that is the rage on social media.
OMG, What Dimag
*Anurag Kashyap deletes his Twitter account just before the release of Sacred Games season 2. pic.twitter.com/y48cFfTDAO

— Vaishnavi Bahiram (@Marathi_memer) August 16, 2019
Hahhahahhaah, Bunty Strikes Again
Any random guys ask about my girlfriend.

Me : pic.twitter.com/zo1oPjhdjF

— H A R D I K (@hardikdaga3) August 14, 2019
Which One's Your Favourite
Meme Templates From

SACRED GAMES S-2#SacredGamesS2 pic.twitter.com/qxKwgAHEJL

— Akshay Batra (@akshaybatra020) August 15, 2019
Hahahhahahahah, ROFLing!!!
Pic 1: Sacred Games Season 1

Pic 2: Sacred Games Season 2

😷😷#SacredGamesSeason2 #SACREDGAMES2 pic.twitter.com/2Y38kBoFey

— Avinav☀️🏹🇮🇳♌ (@avinav__gahlot) August 15, 2019
Netflix to Sacred Games Fans
Netflix to Sacred Games fans.#SacredGamesS2 pic.twitter.com/EApMLkVuGk

— Sanesha Misquita 🌴 (@hey_its_sanesha) August 15, 2019
Bunty Ke Saath Bura Hua
When you are fucked up by spending all your money on your gf. pic.twitter.com/C54iV40Cue

— H A R D I K (@hardikdaga3) August 15, 2019
They Keep Getting Better - Not You Season 2
Sacred Games Sacred Games

Season 1 Season 2#SacredGamesS2 pic.twitter.com/uBzjJyaHII

— ⚽️Raees Happu-God Of Thunder⚽️🔨🔨 (@HappuDroga3) August 15, 2019
Best Explanation Ever!!
#SacredGames season 1 and 2 😂 pic.twitter.com/2VyQhPAqsP

— Maithun (The Fauxy) (@Being_Humor) August 15, 2019
The supporting cast led by Jatin Sarna (Bunty), Surveen Chawla (Jojo) and home minister Bhosle played by Girish Kulkarni though limited in terms of screen time have left the audience in splits with their quirky one-liners. Everyone seems to be exceeding expectation with their powerful acting. The show may have admirers or critics, but the funny memes featuring Sacred Games are a massive hit.