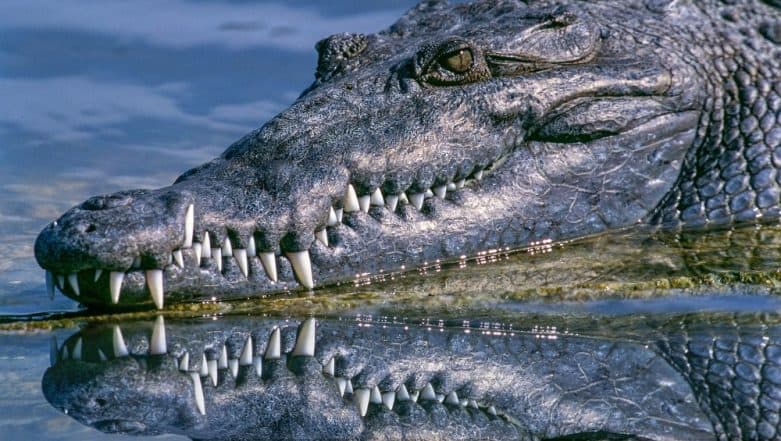 A 68-year-old woman was attacked by an alligator while walking her dog on Monday night in the United States. The incident happened near a pond in Sun City, Beaufort County in South Carolina. The Beaufort County Sheriff's Office said that incident happened at 10 pm. The nine-foot-long alligator bit her on hand, wrist and leg, but the extent of the injuries was not revealed. Following the incident, alligator trappers were contracted and dispatched to the area. After which, the gator was captured and euthanised. The police said that the injured woman is recovering at Memorial Health University Medical Center in Savannah, Georgia. The dog escaped the attack and ran away from the site. 75-Year-Old Florida Man Fights With Alligator to Save His Pet Dog!
Captain Lee Levesque told WTOC, "Unfortunately, we did find an adult patient that had engaged in some capacity with a gator. While we wouldn't say they were life-threatening injuries, they were certainly life-changing. An official from the Bluffton Township Fire District said that her wounds may have been significant. While alligator attacks are rare in this area, the sheriff's office told residents to be careful when walking near the ponds or lagoons, especially in the evenings. Florida Woman Heard Knocks on The Door, Freaked Out to See 10-Foot Alligator Waiting Outside! Watch Video.
Watch The Video Below:
The office in a statement to ABC News on Tuesday said, "Though these type of incidents are infrequent, we urge Beaufort County residents and guests to be mindful of alligators and to please be careful when walking near ponds and lagoons—especially at night when visibility is limited." In a similar incident in 2018, a South Carolina woman who was walking her dog near a lagoon was killed by an alligator. In another incident, a woman was shocked to find an 11-foot alligator had broken into her home in Florida.