Actor Paresh Rawal has once again fallen prey to fake tweet. The BJP MP took to Twitter and shared a screenshot of the tweet which seems to have been tweeted by Congress President Rahul Gandhi. The tweet shared by Rawal reads, "Petrol has gone up to 80 rupees per kg, and the government has no concern about the public !!" The tweet by the actor circles the word 'kg' in red to highlight that the Congress leader made a mistake. However, it has turned out that the tweet was not by Rahul Gandhi.
However, on a closer look, it is clear that the image is unreal and is photoshopped. Last year, Rawal tweeted a quote attributed to late former President Dr APJ Abdul Kalam which was soon found to be fake.
Petrol prices across the four metro cities rose by over Rs 3 per litre in 12 days. It crossed Rs 85 a litre mark on Thursday and sold at Rs 85.29 per litre in Mumbai. In Delhi and Chennai, petrol was sold for Rs 77.47 and Rs 80.42 per litre respectively,
Here is the tweet posted by Paresh Rawal: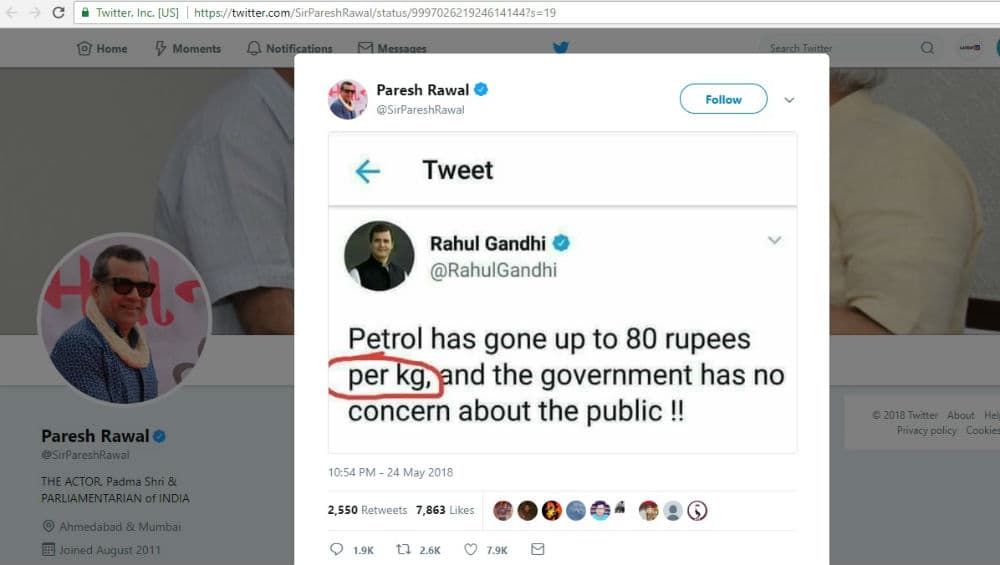 SM Hoax Slayer, which busts fake news and information tweeted too:
Sir. It's Photoshop/fake. The profile photo and test are not left aligned like a genuine tweet.

You achieved approx 2500 RTs though. It's very easy to create such fakes, sir, did u save the tweet ? https://t.co/1ifDXUUFPH

— SM Hoax Slayer (@SMHoaxSlayer) May 25, 2018
Earlier this year, Rawal tweeted out a Google document that carried out instructions for BJP supporters to trend '#JhootiCongress' on Twitter.
Twitter users were soon to give Rawal a taste of his own medicine by sharing screenshots of tweets he did not write.
I agree with him. pic.twitter.com/htGU2das6f

— SupariMan™ (@amitshaah_) May 25, 2018
Rawal had courted controversy when he tweeted saying that author, activist Arundhati Roy should have been tied as a human shield against stone pelters in Kashmir instead of a civilian.
Aj koun sa jhooth numais mein Lagate ho darbari kalakar G pic.twitter.com/cR90KRF2JJ

— Poly Sarkar (@polysmind) May 24, 2018
In today's age, we are bombarded with too much information and social media adds to the picture by circulating it like never before. However, at multiple times it has been proven that not everything on the internet is true is true. The place has also become a major platform for spreading unauthorised news, fake quotes of people and much more majorly in the form of WhatsApp forwards. It is for us to verify the piece of information before sending it out.