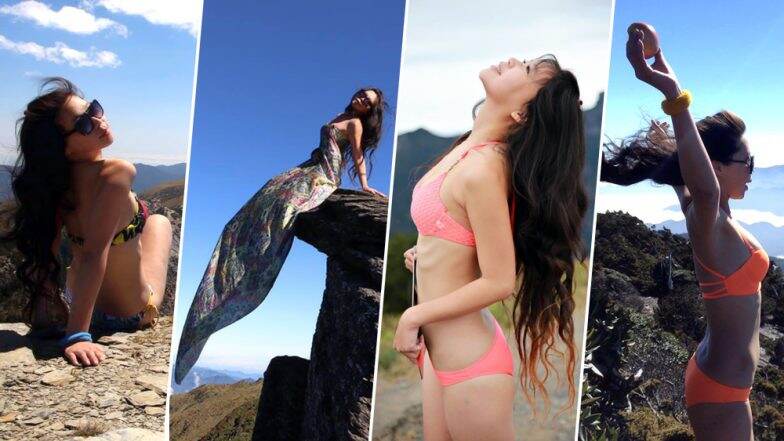 Fondly known as the "Bikini Climber", the famous Taiwanese hiker is no more. GIGI WU has been lovingly called the "Bikini Climber" for the scaling mountains in bikini/swimwear. Her bikini pictures on the top of the mountains were immensely famous, and the mountaineer was very popular on social media platforms such as Instagram and Facebook. According to media reports, she was found frozen to death after a 20m fall. Also known as Wu Chi-Yun, the social media influencer was 36 years old. She was reportedly on a 25-day solo hike, in the middle of which one day she called her friend to tell her that she fell down a ravine in Yushan Mountain in Central Taiwan and her leg injury made it impossible for her to move, as per reports by Taiwan News. The rescue team wasn't able to reach to her before 28 hours because of the poor weather conditions and by the time they arrived the woman was already dead. However, her official cause of death is still not apparent.
Here are some of the pictures of the "Bikini Climber" that became very popular on social media. Famous 'Bikini Hiker' Gigi Wu Freezes to Death on Her Solo Hike in Taiwan.
The overnight temperature was freezing in the area where she was found dead which was an altitude of over 1670m and it is said that GIGI WU froze to death, however, no confirmation has been made about the cause of her death.
People are pouring in condolences.
View this post on Instagram
A picture collage of Gigi Wu's bikini pictures on mountain tops.
Her love mountains were for real!
The mountaineer has surely achieved a lot!
Mountains seemed to be her first love...
Gigi Wu will be remembered!
She definitely achieved a lot in her life and made a name for herself in this world, she will surely keep inspiring more people. May her soul rest in peace.