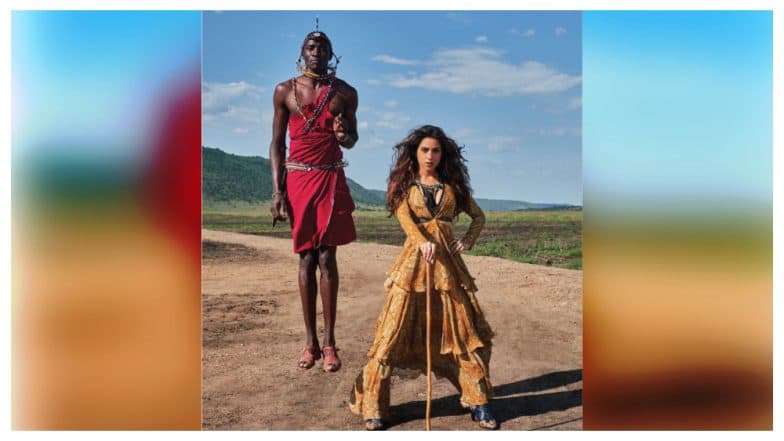 Sara Ali Khan has caught everyone's attention and love with her frank statements on nepotism, her family issued and her views on Bollywood. Among the starkids who made debut last year, hers (Kedarnath, Simmba) was the best-received. High hopes were expected from the talented newcomer, the daughter of actors Saif Ali Khan and Amrita Singh. As she is going places with her newfound stardom, Sara also got a very serious lesson on the other side of fame, where every action, every stance, every picture of hers gets scrutinised. Sara Ali Khan Makes Her Debut on a Magazine Cover and Honestly, She Deserved Something Better!
Sara Ali Khan appeared in the latest photoshoot for Filmfare. The photo shoot was done in Kenya, Africa and one of the picture has her posing next to a man belonging to a Masai Mara tribe. The pictures went viral within minutes of being posted on social media, for three different reasons. Sara admirers were falling over how glamorous the girl was looking in the pictures. Another set of tweeple wondered where the shadow of the man disappeared. Did Sara Ali Khan's Latest Picture Deny Kenyan Man His Own Shadow? Here's The Truth Behind The Alleged Photoshop Blunder!
If looks could kill... #SaraAliKhan is an absolute stunner in this new still from our latest cover shoot.

Watch this space for more exclusive pictures from the shoot. pic.twitter.com/HezQdrRuqA

— Filmfare (@filmfare) February 26, 2019
After the mystery of the shadow-less man is dying down, Sara's photoshoot is now accused of a more heinous crime than photoshop - racism. Twitter users are wondering how the magazine is still using race as a prop for a glam shoot. They also called out Sara for agreeing to be a part of the shoot, despite having an education in political science.
Check out the reactions below:
Tweet #1
the absolute dehumanisation and cultural incompetence aside, why doesn't the man in the second picture not even have a shadow???? DID YOU JUST PHOTOSHOP A STOCK IMAGE OF A MAN IN TRADITIONAL GEAR??????? Lmao. https://t.co/DhjAjBZWlK

— (@PedestrianPoet) February 27, 2019
Tweet #2
Apparently Filmfare and Bollywood think they exist in a parallel plane where racist discourse simply doesn't apply to them. Especially if you're a star kid (even one that studied law and political science at Columbia)! https://t.co/X7QgzBVEAU

— Nishita Jha (@NishSwish) February 27, 2019
Tweet #3
People are not fucking props .

Its 2019. You should know that this isn't ok.

Massively disappointed in #SaraAliKhan for not declining this atrocious shoot. Do better. https://t.co/PwpHt5Ct8s

— Sarah Khan (@sarah_khan) February 26, 2019
Tweet #4
Wasn't everyone losing their mind over how "refreshing" Sara Ali Khan is because she "acknowledged" nepotism? Give them some time, they'll show you their true colours in a bit. Saves you looking like an idiot as well. https://t.co/9G8BaGzNPu

— Shahana Yasmin (@shahana_y) February 27, 2019
Tweet #5
Sara Ali Khan went to Columbia, and even she could not tell filmfare that maybe her "stunner" picture is racist and appropriative? Come on, Sara, you are one of the good ones!! https://t.co/lNlaaEcnFR

— shikha (@elitistsadgirl) February 27, 2019
Tweet #6
Well, @thevirdas did say that Indians were the white people of brown people .. https://t.co/6G7xn2AHN9

— Sharlight (@sjaufar) February 27, 2019
Tweet #7
Jesus Christ, Bollywood really makes me sick. Just when I thought they couldn't get any more repulsive they go ahead do some racist shit like this. https://t.co/PdLvJOxoZt

— . (@AyeChampa) February 27, 2019
Earlier, Shraddha Kapoor's photoshoot for photographer Dabboo Ratnani's 2019 calendar was also called out for similar reasons. She was wearing a Native American war bonnet, which many felt was culturally inappropriate.