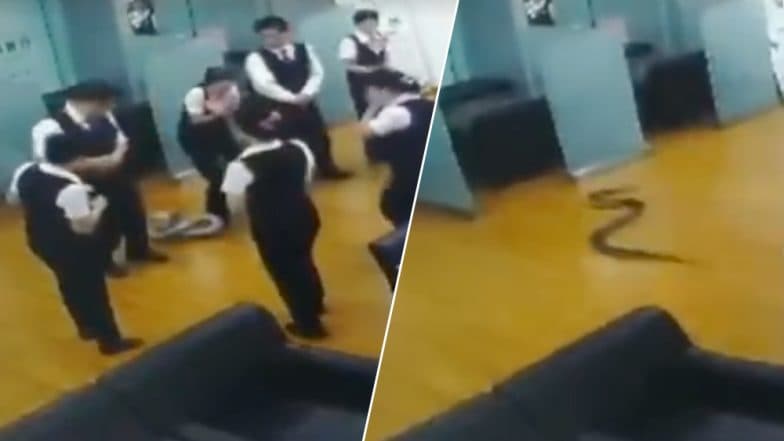 A few bank officials in China were in for a scary surprise, a moment they will never forget in life. No, it has got nothing to do with their boss. Jokes apart, what is that one worst fear that can come true for an employee. For an underperforming one, it could be the fear of getting pulled up for not being up to the mark. For others, there may be other reasons. But have you ever wondered what if a python or a snake attended your meeting! Yes, that is exactly what happened in a bank in China. Python Rescued From BKC in Mumbai, Views Pics.
A few Chinese officials were standing in order for what looks like a meeting in their bank branch. All of them were in a hurdle discussing something important. Suddenly, a snake from the top falls amidst them which scares the hell out of all the employees and rightly so. Shocking Video of Giant Python Eating an Indonesian Woman Will Freak You Out: Disturbing Images of Human Body Found in Big Snake's Belly.
Watch the Video Below:
The video is aptly titled "The quickest way to break up a staff meeting." After all the snake was  reportedly five feet long and going by the look of it, it definitely could cause harm. The employees ran for their life and the video is running viral on internet gaining thousands of views in no time. There are few things that can scare human beings like a snake does, and that belief has been reaffirmed by this video. Snake in a bank! Strange as it may sound, it is not impossible for the reptile to make its way in the strangest of places.