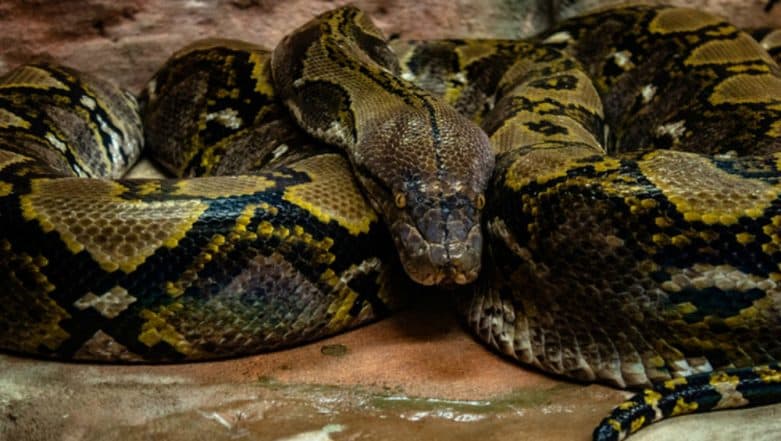 The fear of snakes is one of the common phobias people have, and it is quite understandable. Some are venomous; others are capable of killing us, so fearing the reptiles is a matter of instinct. A family living in Mumbai suburbs, India witnessed what could no less be described as the worst nightmare. A Bhandup resident, identified as Vinay Dhoble stepped into the washroom, a little before the clock struck midnight, a giant snake lunged towards him, stopping short of wounding him. It was reportedly a rock python resting at their Indian-style toilet commode. Horrified Dhoble quickly, went out and latched the door from outside. The sight was frightening, so much that Dhoble's wife reportedly fainted when the rescuers took it out. Woman's 'Snake Stockings' Mistaken for Real Snakes, Husband Beats Her with a Baseball Bat. 
Minutes after spotting the reptile, Dhoble along with his wife and sons, rushed out of his one-room kitchen apartment on the ground floor of the municipal quarters. He woke up his entire neighbourhood, seeking help. "Luckily, one of my neighbours, Akshay Patkar, found out the contact number of a non-profit organisation that rescues snakes," Dhoble was quoted saying in a Times of India report. "We did not sleep a wink last night. Not only the boys, my wife and I have been equally horrified," admits Dhoble. The same report mentioned Dhoble to be a municipal employee who confessed that his two children, aged five and ten, were completely shaken seeing the huge reptile slithering into their house. Snake Bit an Australian Woman's Butt in the Toilet, Here's What Happened Next!
The rescue team fished out the snake, out of the commode reportedly around 2:00 am. Aman Singh, a volunteer from Resqink Association for Wildlife Welfare (RAWW), informed that the python was more than 7-ft long. The snake kept the rescuers on the edge as it continued to slip in and out of the toilet. They had to wait patiently for about 45 minutes waiting for the reptile to crawl out enough for them to get a grip on its body. Once the python had slithered out enough, they pulled it out with a snake hook. The snake was gently pinched up and brought out safely. The scare does not end here. A few hours later, another huge python was reportedly found in the same area where Dhobles live.