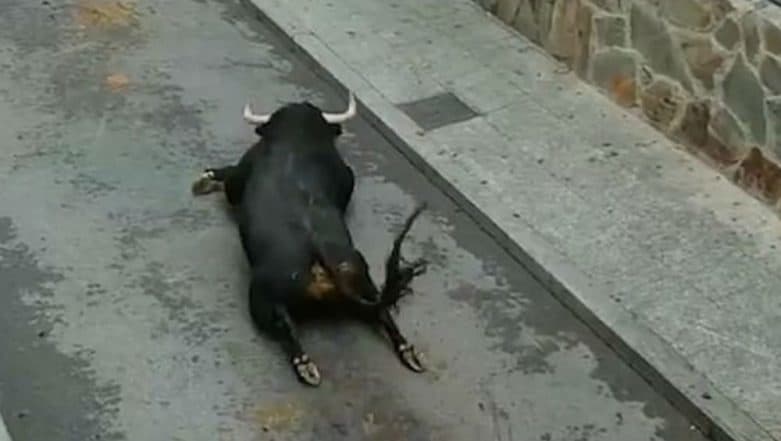 Madrid, October 17: A video doing rounds on social media shows a bull in Spain breaking both his legs after the ramp was placed too high for the bull to be able to get down on its feet safely. The heartbreaking video shows the bull inside a vehicle with a ramp too high. Before getting down, the bull hesitates for a few seconds, leaping to climb down. The tragic video is getting shared online and animal activists as well as common people are expressing their rage over the cruelty done to the animal. Bull Fighting 'Maghesakranti' Festival Similar to Jallikattu Begins in Nepal.
Social media and Twitter has taken strong objection to the video and the painful content.
Watch the Heartbreaking Video Below
This poor and innocent bull breaks his legs when leaving the place had it has been locked up, to harass and torture him.

Who has fun terrifying and harming non-human animals is a real monster.

This happened in Mejorada del Campo, Spain, where these aberrations are still allowed. pic.twitter.com/qso78Quqq5

— Ale Zapata (@AleZ2016) October 14, 2018
Just as the bull makes a landing on the ramp, it skid and falls on the ground with great force breaking both its back leg and wringing in pain.
The bull then tries its best to move forward on the broken limbs and painfully drags itself ahead. Users on social media platform have been speaking against the cruelty meted out to the bull. An animal rights group have been running a petition demanding proper protection laws for the animals and bulls participating in Spain's bullfighting festival.