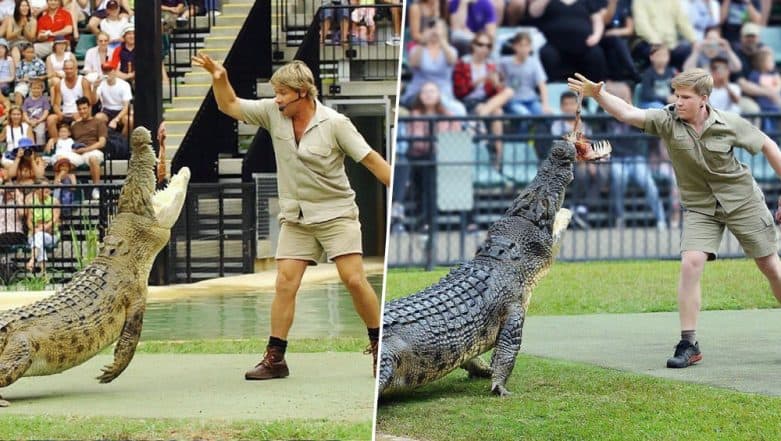 Say the name Steve Irwin and you instantly think of Crocodile Hunter. The Australian zookeeper and conservationist has shocked viewers with his skills. People who love wildlife have definitely grown up watching him and it is also entertaining to watch the reruns sometimes. But now his son Robert Irwin has relived the memories of his daring father by recreating an exact scene while feeding a crocodile; the same crocodile with Steve fed 15 years ago. Robert Irwin posted a picture as an honour to Steve Irwin and it is an exact replica, taken at the same location and in the same manner. The recreation has made Twitter emotional and the picture is going viral. Steve Irwin's Birth Anniversary: From Deadly Snakes to Chasing Cheetahs, These Videos of The Crocodile Hunter Prove His Love For Animals.
Robert posted a picture collage of himself and his father in the same action of feeding meat to the same croc named Murray, but 15 years apart. Steve Irwin died in the year 2006 with a stingray attack and his son has definitely learnt all well after his father. People were definitely touched and the picture is now going viral. People remembered Steve and his tactics in the comments. PETA Accuses Google for Steve Irwin Doodle & Disrespects Late Crocodile Hunter in Series of Tweets; Gets Trolled Online.
Check Robert Irwin's Pic of Feeding The Crocodile:
Dad and me feeding Murray... same place, same croc - two photos 15 years apart ❤️🐊 pic.twitter.com/9Ybp5AnTOI

— Robert Irwin (@RobertIrwin) July 3, 2019
Twitter Got Emotional!
— Ali-pop Danilicious (@aliajaded) July 3, 2019
— Chagres (@ChagresPTY) July 3, 2019
We need more like the Irwins
I hope you keep doing what makes you happiest man. Your whole family is and has always been a huge positive influence on me and many others around the globe. Keep your passion alive! :)

— Jordan Sweeto (@JordanSweeto) July 3, 2019
Making people proud
I know your father would be proud of you and your sister for carrying on the legacy he left behind. Seeing this makes me proud to be Australian.

— Voltic Enigma (💙Eugeo Synthesis 32💙) (@VolticEnigma) July 3, 2019
Mixed emotions
I have to admit in the past you made me sad because you make me think about him. But now I realize that you make me happy because you make me think about him.

— Sharon A. Wagner (@Swigwag) July 3, 2019
Missing Steve Irwin
The world misses your dad. He was an icon.

— Farhan (@lamkanahraf) July 3, 2019
I grew up watching Steve Irwin. I was always amazed at his intelligence, he always said @AustraliaZoo would be just fine long after he was gone...this photo absolutely proves it...

— Bradly Caine (@BradlyCaine) July 3, 2019
Winning the internet
You've won the internet for today! Incredible photo!

— Becky (@beckypea93) July 3, 2019
A lot of people remembered how Steve Irwin worked and always took on danger but also tackled it well. Seeing his son following his dad's steps people left more words of encouragement for Robert Irwin. It is indeed a pride to see the son following Steve's steps the right way.