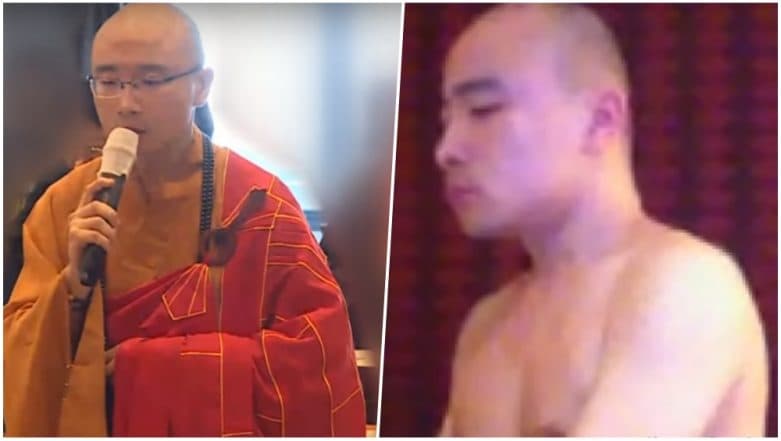 A Taiwanese Buddhist monk is on every local news headlines after he was caught breaking all the monastic vow that includes taking drugs, filming pornographic videos and throwing sex parties. Identified as a 29-year-old Kai Hung, the head of a Buddhist youth organisation was arrested for possessing illegal drugs, throwing gay sex orgy, among other suspected crimes. Following his sex and drugs scandal, he further has been expelled from his temple. The video footage which is going viral now shows the young Buddhist romping naked on a bed with another man and reportedly smoking amphetamines. Thai Monk Sentenced for Raping 13-Year-Old He Impregnated. 
Mirror Media has published about three explicit clips. But the report also states that Hung had a total of 200 gigabytes of footage filmed of his wild gatherings. The footage was leaked by another monk who was also a former lover of Kai as an act of revenge. The report did not say where or when the film was shot but revealed that Kai was a long-time drug user who held 'sex parties' with other Buddhist at Tangshan Temple, where he was based. Authorities at the temple said that Hung was expelled on November 13 for his "religious discipline problems." Afterwards, the 29-year-old moved to another temple in the same county, called Chongfo to study 'Buddhist doctrine.' India-Trained Monks Banned From Teaching Buddhism in China's Sichuan Province. 
Watch the leaked video.
When Miaoli County Police arrived at the Chongfo Temple with a search warrant, they were blocked from entering by four monks. All of them shouted to Hung to hide in another room. The 29-year-old locked himself, but another man unlocked the door. According to the Liberty Times, the police discovered a startled-looking Hung, about 19 grams of amphetamines, pipes, erection medication, anal relaxations, ultra-thin condoms and a container of Tapeijou holy water filled with sexual lubricant. Besides, the cops also found two USB flash drives which contained footage of sex with men, drug use and nude photos.
The list of alleged acts committed by the monk has been described in the same report as one of the biggest scandals with Taiwan's Buddhist community in many years. Kai Hung reportedly denied providing drugs to others or taking people to the temple to consume drugs. He was released on a bail of NT$100,000, and further investigation is underway.