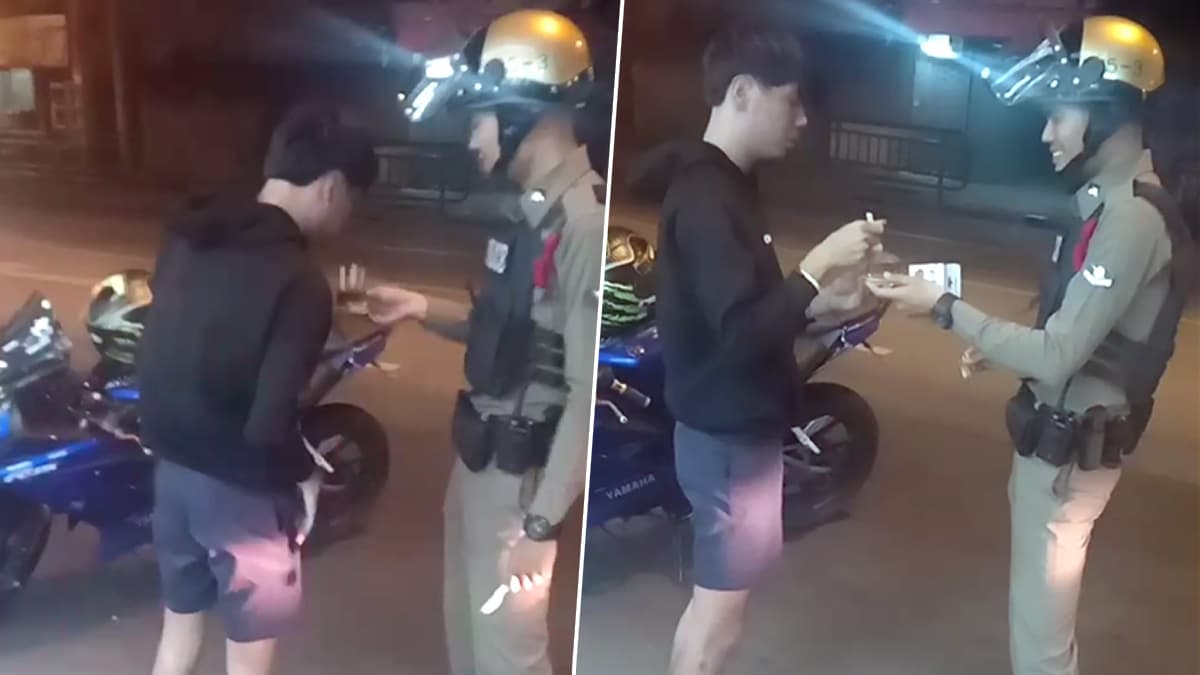 Family forgetting your birthday can be quiet a depressing thing. A Thai teenager experienced it a bit too well, and it ended quite unexpectedly for him. It was his birthday and when his family forgot his birthday, he felt neglected. He went out driving in anger and got caught for speeding. When the officers caught him, he pleaded guilty but also started crying. The police found out that it was his birthday and bought a cake for him. Well, it is not every day that we come across such nice policemen and we are sure the guy would remember not only his birthday but also following traffic rules henceforth. A video of the boy cutting his cake amidst the company of police officer has been shared online and now going viral. Hyderabad Traffic Cop Wades Through Waterlogged Road Carrying Man With Plastered Leg on His Back, Watch Video.
The incident took place about two weeks ago when a teenager was caught speeding. The guy was not wearing a helmet nor did have a license with him. When local policeman Kanokpan Putthapong caught him, the guy who was already feeling miserable, just broke down. Putthapong asked him more when the guy said it was his birthday and his family had forgotten it. The guy was feeling troubled and just decided to leave his brother's house. To make it feel a little better, the policeman then decided to make his day. He bought him a slice of cake, even put some candles and had a small celebration. Bengaluru Traffic Police Repair Pothole In The City, Twitterati Hail Cops And Demand Answers From Municipal Corporation (Watch Video).
Watch The Video of Policeman Celebrating Teen Guy's Birthday:
Isn't it sweet? Although the guy's actions are questionable and would have been taking action against, it is nice to see his birthday being celebrated, be it in a small way. The teenager was so moved by the kindness that he ended up with tears again, but this time of joy.