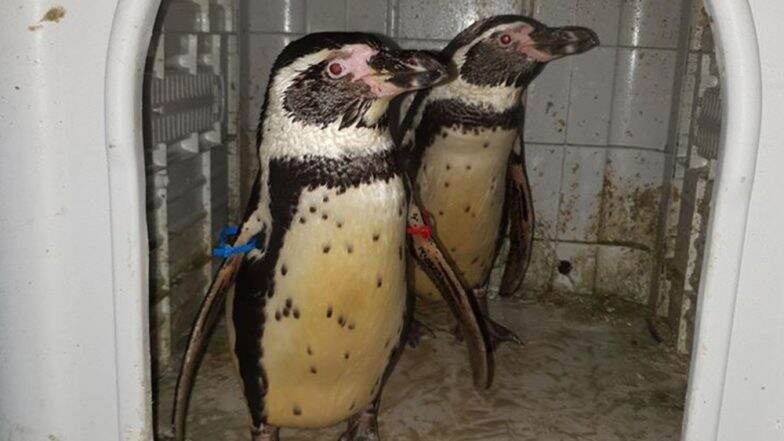 Two Humboldt penguins went missing since last November from a zoo in the United Kingdom. They were reportedly stolen from their closure, and the police officials were looking for the pair after a complaint was registered. Thanks to the cops, the Penguins have now been returned to the zoo, all healthy. The police officers informed that they were discovered in a Strelley village, Nottinghamshire, two months after vanishing. Further, a 23-year-old man who was arrested on suspicion of burglary and theft has now been released under investigation. The cops also reported that the duo was recovered unharmed at the spot. Here's How Penguins Give Humans Ultimate Relationship Goals! Watch This Romantic Video.
Sergeant Andrew Browning stated in their Facebook page, "My first thought was this is one for the books, and one to tell the grandkids, because there's no way we thought we would go down there and actually find two penguins. It was an unusual one. Even when we went down to custody it made everyone laugh, particularly the custody sergeant who was booking us in. It was a real off-the-wall find." Humboldt penguins are native to South America. They are named after the current of water where they swim. Know The Answers to the Most Asked Questions About These Aquatic Birds. 
Two Humboldt Penguins
These types of penguins are visibly thinner compared to other species that store more stout and plumage in their body. They belong to the group of banded penguins, and the Humboldt looks very similar to the African penguin. The International Union for Conservation of Nature has listed the Humboldt Penguins as being 'vulnerable' which means they could become endangered.