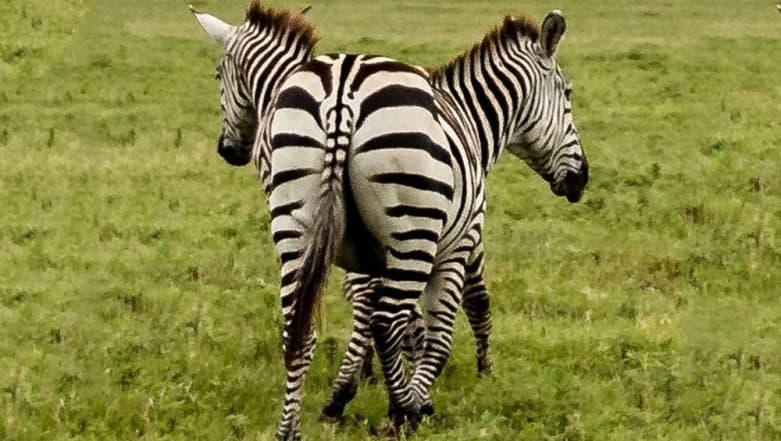 A picture of a "two-headed" zebra is doing rounds on the internet, taking netizens by surprise. The picture shows just one body and two heads of a zebra that has been brilliantly captured by a photographer named Zhayynn James. However, you will be stunned to know that it is not really a zebra suffering from some condition that caused the beautiful animal to have two heads but just a smart work of optical illusion. The picture at a glance looks like something of a creature unknown to mankind but is, in reality, has been clicked by a brilliant 43-year-old photographer who works as a landscape architect in Chennai, India. The picture is actually of two zebras who aligned perfectly at a time to create an optical illusion made it look like it is a picture of a zebra that has two heads. Optical Illusion or Not? Man's Mirror Selfie Video at Illinois Store Goes Viral.
You have to check the picture of the "double-headed" zebra to believe it:
View this post on Instagram
Isn't it amazing? In the past, another photographer who goes by the handle name John Madere and works for John Madere Photography had taken a similar picture. This perfectly-timed picture of two zebra looks like the zebra is one zebra having two heads, isn't it? This picture was taken in the year 2017, though. 'Beach or a Door' Is The Latest Illusion Dividing The Internet, Check Some Other Confusing Illusionary Images That Went Viral Along With The Explanation.
Check pic:
Wildlife photographers are really upping their games to provide us with such treats for the eyes! Revealing the trick to Daily Mail, Zhayynn James said: "This was possible because of the striped patterns on both bodies, creating an optical illusion where our eyes aren't able to tell them apart."