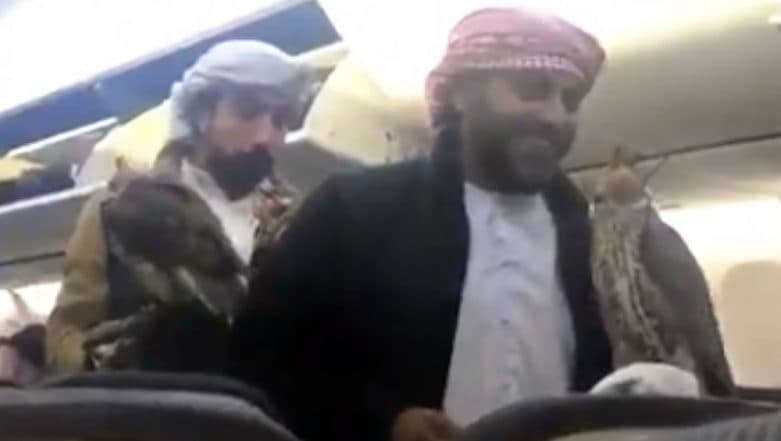 In a strange incident that is now going viral, three men boarded a flight with falcons perched on their arms and the visual results are insane. The video has taken Twitter and Facebook by storm after a tweet consisting of the video of the men with falcons onboard went viral. The tweet's caption read "Folks two dudes just boarded my plane with emotional support falcons." In no time after the tweet, the video went viral. The "emotional support falcons," are garnering various kinds of reactions ever since they became viral on Twitter since March 30. With over 38000 loves and 7000 retweets, the video is still gaining a lot of traction. The footage was caught in a flight from Dushanbe in Tajikistan to Dubai in the United Arab Emirates (UAE). Couple Caught Having Sex on Mexico-Bound Flight, Husband & Wife Shares Explicit Footage! Watch Viral Video.
What is an ESA?
An emotional support animal, in short, ESA is an animal that accompanies a passenger, usually a person who is disabled by a mental health condition or emotional disorder.
Take a look at the video:
Folks two dudes just boarded my plane with emotional support falcons pic.twitter.com/lHABg8A7La

— The Tajikistahn Dahn (@DonnieDoesWorld) March 29, 2019
@DonnieDoesWorld who initially shared the video also said explained the reactions of people onboard. His tweet read: "People are changing seats to get away from them. I just volunteered to sit closer to them. They make me feel secure."
Reactions are mixed, take a look at some of the reactions:
That last guy must need a lot of support, he has *two* falcons

— Danny Gold (@DGisSERIOUS) March 29, 2019
Looks like it is not an uncommon sight!
Falconry is a sign of wealth in many parts of the world. These dudes like to party

— JMACK (@RMcardsfan) March 29, 2019
LOL
I would watch this movie.

FUCK, I WANT AN EMOTIONAL SUPPORT BIRD OF PREY TO SIT ON THE EDGE OF MY CUBICLE AND GLARE AT PEOPLE.

I'd give him a old black man's name too, like Wendell or Eldridge. #AsPerOurLastEmail Eldridge and I finished the report last week, Susan. pic.twitter.com/cmWqv6sQOe

— Salty Nymph of Evil (@ComrieQuinn) March 30, 2019
Did you know this?
If you fly on Royal Jordanian Airways you'll have the best chance of this happening. They allow 2 falcons per person (till the max of I think 10 per plane is reached). Other middle eastern airlines allow them too but fewer. In the UAE falcons are issued their own passports. :)

— Liz Williams (@Liz_Alfreda) March 30, 2019
What!?
those are emotional distress falcons tho.

— Christy Fletcher (@FletcherChristy) March 30, 2019
Okay.
Falcons are allowed to travel with the owners in the cabin. It's nothing new...we see it all the time here in the Gulf. Don't be an ignoramus. Be curious. Learn about diff cultures.

— Annie اینی (@aj_talk2me) March 30, 2019
It is believed that in the gulf it is prevalent for the passengers to carry falcon along with them. Many airlines also allow passengers to carry this hunter bird.