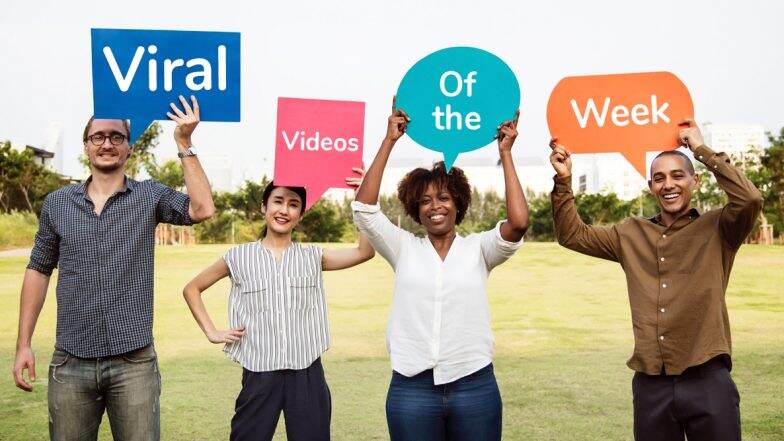 Social media plays an important role in keeping us updated with everything big and small things from around the world. From videos, GIFs, memes, tweets, the internet keeps us entertained with all the time. Social media is known for its ability to make things go viral in no time and videos play an important role in it. It lets us peek into places we would have never heard or probably will never travel to. Videos let us be informed about people, culture, places and a lot more. These footages have many-a-times helped people in making their careers successful and also in breaking it. As the weekend has arrived, we take a look at some of the most popular viral videos of the week. Viral Videos Of The Week: Fearless Kerala Woman Making Bus Driver Follow Road Rules, Man Teasing Snake on Camera, to Other Viral Clips That Got Internet Talking!
This week saw different kins of videos going viral on social media platforms. From a woman entering a lion enclosure in New York to a Tamil Nadu travel guide's dance, this week witnessed an array of videos trending on social media. Another video that caught the fancy of netizens was of people walking around San Siro's spiral columns in AC Milan creating an optical illusion.
1. Tamil Nadu Tour Guide Dances Explaining About Kathakali to Foreigners:
Received this as #whatsappforward !

As per the forward -This guy is a local tour guide named Prabhoo, in Tamil Nadu. So talented he is!!

Just look at his expressions..truly amazing!! pic.twitter.com/r0R7l9EXIH

— Priyanka Shukla (@PriyankaJShukla) October 1, 2019
Video of a Tamil Nadu tour guide had gone viral massively on the internet earlier this week. The clip shows the guide named Prabhoo grooving while explaining about folk artform Kathakali to foreigners. He even shows them different mudras and posture quite gracefully like an expert. As the video went viral, social media showered praises.
2. 'Optical Illusion' of People Leaving San Siro Football Stadium in AC Milan:
Watching people leaving San Siro football stadium in Milan makes me believe that the entire spiral structure is moving. pic.twitter.com/FepPjsN9ms

— Daniel Holland (@DannyDutch) October 3, 2019
Video of people walking around San Siro's spiral columns in AC Milan had sparked thoughts of optical illusion. Twitterati said that the footage was such that people thought it looked like that column itself is moving. It looks like people are gliding down the spiral, however, that's not the case. The video had also generated a lot of funny reactions on Twitter.
3. Malaysian Soldier Holds King Cobra With Bare Hands:
The moment a Malaysian soldier held a King Cobra with his bare hands has gone viral on the internet. The video was captured at the Tentera Darat Army. While his fearlessness is praiseworthy, it is at the same time worrying considering the risk involved.
4. Woman Enters Lion Enclosure in New York Zoo:
A woman was captured on camera climbing into a lion's enclosure at a New York City zoo. She was seen dancing in front of the ferocious animal, like with seemingly no fear on her face. She was later identified as Myah Autry and the NYPD has requested citizens to help them in finding her. The video had resulted in widespread anger on social media platforms.
5. Cancer Survivor Who Lost One Leg Dances Gracefully On Stage:
Dance video of an 11-year-old who survived cancer has gone viral on social media platforms. In the clip, Anjali can be seen dancing to the song Mere Dholna Sunn from 2007 film Bhool Bhulaiyaa. The video is from a medical conference in Kolkata where Anjali recently performed. The clip was quick to go viral and garner praises from social media users.
Videos are quite a powerful medium to communicate and makes to headlines. Social media being a great platform makes these clips viral in no time. While these are some of the popular videos of the week, do let us know if your favourite ones. You can also comment below with videos you think we missed out.