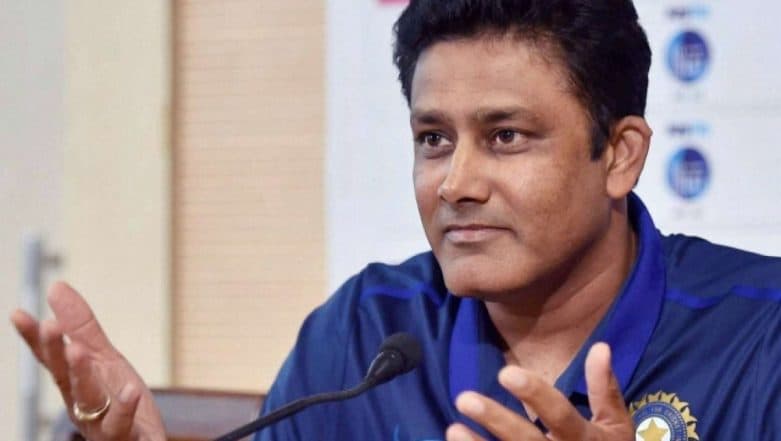 Indian cricketing legend and spin great Anil Kumble has been re-appointed as Chairman of the International Cricket Council (ICC) Cricket Committee to serve for a final three-year term. Kumble has been serving on this post since 2012. The ICC made the information public after the board meeting in Dubai where it made a number of other important announcements. Indian Team Players for IPL 2019 & ICC World Cup: MS Dhoni Opposes, Anil Kumble Supports Virat Kohli's Suggestion to Rest Key Bowlers.
Earlier, the International Cricket Council concluded six days of meetings in Dubai today with a number of key decisions taken. Anil Kumble Rightly Predicts India's 2–1 Test Series Win Over Australia, Twitterati Line Up With Questions About Avengers and Next PM!
"The Board moved to reassure Members around security ahead of the ICC Men's Cricket World Cup in light of recent communication from BCCI and confirmed that as is normal practice this will continue to be monitored through to the end of the event," mentioned ICC on its website.
ICC CEO David Richardson said: "As you would expect for a global sporting event, the ICC, in partnership with the ECB has a robust security plan in place for the Men's Cricket World Cup. We work closely with the authorities in our host countries to ensure that the safety of players, officials and fans is a priority."
"Should those authorities raise the threat level of the event based on intelligence, we will, of course, uplift our security commitment as appropriate. We will continue to work with the ECB and our Members throughout the build-up to and during the tournament to keep everyone abreast of the situation."
The UAE and Scotland were selected as the hosts of the respective ICC Men's and Women's T20 World Cup Qualifier events later this year. Scotland will host the women's event from 31 August to 7 September 2019 whilst UAE will host the men's event from 11 October to 3 November 2019, informed the ICC.