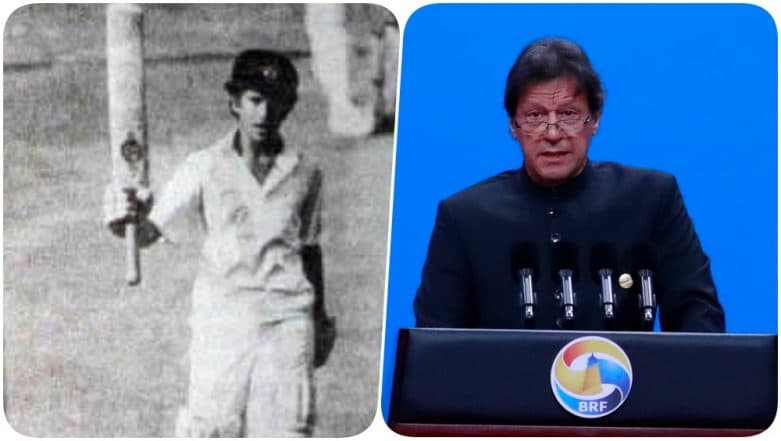 Imran Khan's special assistant Naeem Ul Haque has landed himself in a soup. How? So last night Naeem took to Twitter and shared an image of Sachin Tendulkar. The special assistant actually intended to share the picture of Imran Khan but ended up sharing Master Blaster Sachin Tendulkar's snap. The picture shows, a young Sachin Tendulkar raising his bat in white gears. Sachin Tendulkar Mistaken For Imran Khan! Pakistan PM's Special Assistant Naeem Ul Haque Shares Wrong Image on Twitter.
The caption read, "PM Imran Khan 1969." The snap drew hilarious responses as the netizens trolled him left, right and centre. Many Internet users posted pictures with wrong captions which were nothing less than funny. Haque is said to be one of the closest aides of Imran Khan. He is also one of the founders of Pakistan Tehreek-e-Insaf (PTI) which is the current ruling party of the nation. Imran Khan Gets Trolled For Posting Rabindranath Tagore's Quote Saying it's by Kahlil Gibran. 
First, check out Naeem's tweet below: 
PM Imran Khan 1969 pic.twitter.com/uiivAOfszs

— Naeem ul Haque (@naeemul_haque) June 21, 2019
Check out a few trolls below:
Inzamam-ul-Haq 1976 pic.twitter.com/uGBVbplnlP

— Krishna (@Atheist_Krishna) June 22, 2019
Rajdeep Sardesai as Shane Warne?
Shane warne 2002 pic.twitter.com/AzA1Vbx9t8
— Fauxy Hunटरर ♂ (@nickhunterr) June 22, 2019
Here comes Sachin Tendulkar.
Sachin Tendulkar 1969 pic.twitter.com/7yOlGtpPfo

— Aditya Raj Kaul (@AdityaRajKaul) June 22, 2019
Sarfaraz Ahmed. 
Sarfaraz 1987 pic.twitter.com/1geaaL8Wpk

— پرنس آف ڈھمپ (@The_X2_) June 22, 2019
Sir Donald Bradman in 1930.
Sir Donald George Bradman at The Oval,

During a tour of England in 1930 Ashes series. pic.twitter.com/crpfbnSrqL

— Mohammed Zubair (@zoo_bear) June 22, 2019
Oppps.
PM Imran Khan (1952) pic.twitter.com/Ez1gBj9U3h

— Roshan Rai (@RoshanKrRai) June 22, 2019
MS Dhoni.
Imran Khan 1992 pic.twitter.com/6WbbqOxwvD

— सागर (@iamSagarsinha) June 22, 2019
Last one.
Virat kohli pic.twitter.com/LmyxT2WDSw

— Chaudhry Nabeel (@DrNabeelChaudry) June 22, 2019
Earlier it was Michael Vaughan who had trolled Imran Khan for putting up a series of tweets while the Pakistani team had already on the ground for the CWC 2019 game against India last Sunday. Imran Khan posted five tweets and asked the team to play fearlessly. He also suggested the players should bat first after winning the toss. Vaughan obviously saw the tweet informed the PM that Sarfaraz  Ahmed was not active.