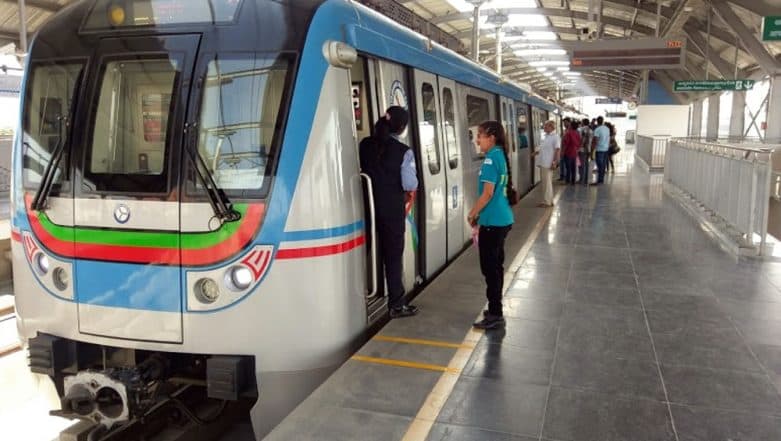 Hyderabad, May 12: The Hyderabad Metro has decided to run the facility till 1 AM on Sunday, considering the Indian Premier League (IPL) season 12 final which is hosted by the Rajiv Gandhi International Cricket Stadium, Hyderabad. In the Super Sunday final, Rohit Sharma led Mumbai Indians (MI) will take on MS Dhoni's Chennai Super Kings (CSK) side. The timings of the metro being extended comes as a delight for the fans eager to watch the IPL 2019 finals. MI vs CSK, IPL 2019 Final, Live Cricket Score.
The trend of extending timing or running special local trains is a measure that Western Railways employed to great effect in Mumbai. For the Mumbai Indians matches which used to be played at the franchise's hometown at  the Wankhede Stadium, Mumbai local trains helped fans by running trains late into the night from the town to suburbs. MI vs CSK, IPL 2019 Final Match Predictions: Rohit Sharma's Mumbai Indians or MS Dhoni's Chennai Super Kings, Who Will Win IPL 12 Final?
The security has been beefed up in the entire city in view of the Sundays' finals. CCTV cameras and security forces jawans have been deployed to keep strict eye on the happenings. IPL 2019 Final: Mumbai Indians' Fan Prepares List Titled 'How to Tackle CSK in Field', Chennai Super Kings Twitter Handle Alerts 'Super' Coach Stephen Fleming.
Coming to today's match, this will be the fourth IPL final between MI and CSK and both of them have a chance of winning the IPL for a record fourth time. While Mumbai Indians have won the IPL trophy four times in 12 seasons, the Chennai Super Kings have won the IPL title three times in the 10 seasons it has played.
Chennai has been in a record eight IPL finals, under 'Captain Cool' MS Dhoni. Though Hyderabad could not make it to the finals of IPL 2019, the passionate cricket lovers of Hyderabad will not let any stone unturned to ensure that the stadium is houseful and full of life.