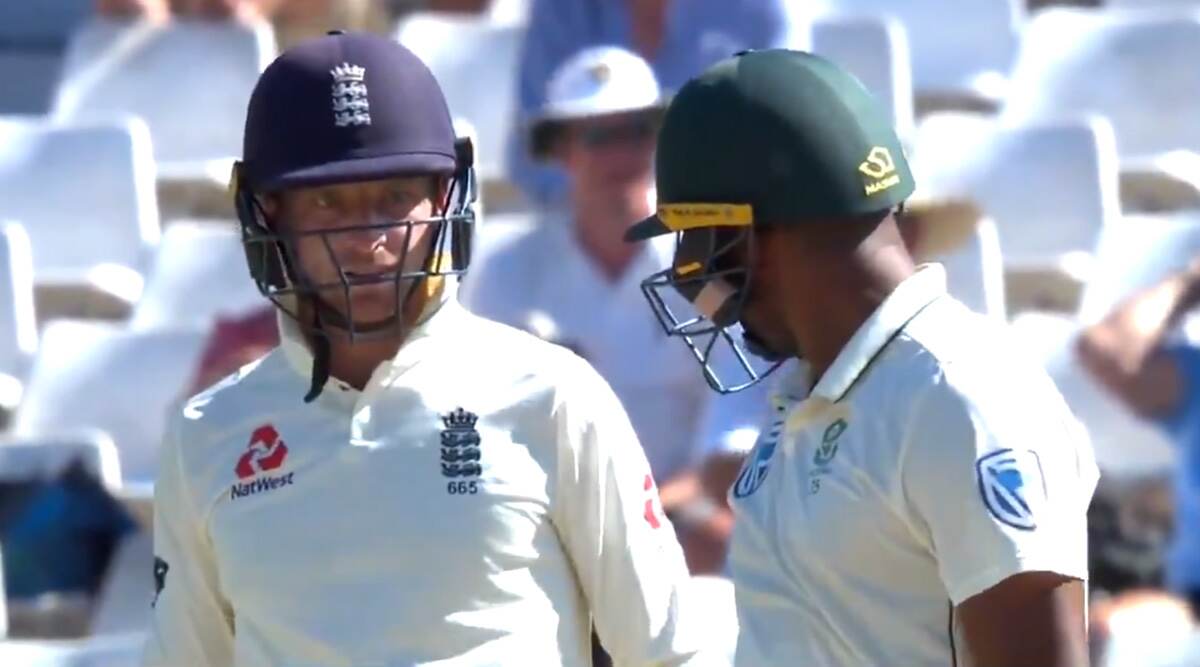 Jos Buttler could find himself in trouble with the International Cricket Council (ICC) after being caught abusing Vernon Philander on the stump-mic during Day 5 of South Africa vs England 2nd Test match at Cape Town. Philander, who was battling to save South Africa from a defeat in the 2nd Test, had frustrated England with a fighting 51-ball 8 runs and Buttler, seemingly upset with his side being kept waiting for the win, hurled abuses at the retiring South African cricketer when Philander blocked the former's view from an incoming throw. Philander eventually fell short of earning the draw for the Proteas as England beat South Africa with 8 overs remaining in the final day of the match to level the four-Test match series 1-1. South Africa Vs England, Highlights And Cricket Score 2nd Test Match.
The incident occurred in the final session of Day 5 – last day – of the 2nd Test with both sides sharing some nervy and tensed moments. England were behind in the Test series having lost the 1st Test by a big margin but were on verge of completing a series-levelling win at Cape Town. The visitors stepped into Day 5 needing 8 wickets to secure victory, while South Africa needed to chase 438 runs. Anderson provided an early breakthrough by castling Keshav Maharaj but Faf du Plessis, Peter Malan, Rassie van der Dussen and Quinton de Kock provided the resistance keeping England waiting. South Africa vs England 2nd Test 2020: Grandfather's Bets Pay Off For Dom Sibley From Beyond The Grave.
Jos Buttler Abuses Vernon Philander
Don't you just love English athletes?

They're such a classy bunch 🤦‍♂️#SAvENG pic.twitter.com/R1b6bMg5Yl

— JAKE BUCKLEY 🇦🇺 (@TheMasterBucks) January 7, 2020
A combined bowling effort by the visitors saw South Africa's resistance end with a slide and they were reduced to 237/7. But Vernon Philander in the company of the tail-enders dug in and took the game to the final half-hour of the Test match frustrating England, who on realising that time was running-out decided to pick on Philander and try to unsettle him.
Buttler's Barrage of Expletives for Philander
Plenty of tension at Newlands. Buttler calls Philander a 'Fucking Knobhead' and follows it up with a barrage of F words #SAvENG pic.twitter.com/ct1KRUj5nX

— Gav Joshi (@Gampa_cricket) January 7, 2020
Buttler failed to notice a throw by Joe Root from mid-on after Philander did not move when the ball came in towards the keeper, leaving Buttler blind to the throw. The 29-year-old, upset at this, then reacted angrily and could be heard calling Philander an "f*****g knobhead" which was caught on the stump mic. Not stopping there, the English wicket-keeper than repeated the "F" cuss word several times and asked Philander to "f*****g move, get past that f*****g gut" as Philander stared at him. The face-off resumed in the next over as well.
Broadcaster Mike Atherton later apologised on air for the said incident "Apologies if you heard a little bit of foul language an over or two ago. Obviously things are getting pretty heated out there at the moment," said the Sky Sports presenter.
Incidentally, Buttler and Philander have been teammates in English County cricket before with the South African returning to join Somerset next season after his international retirement. Meanwhile, Ben Stokes was the star for England in its 189-run win that helped the visitors level the series 1-1. Stokes took the last three wickets, including the final scalp of Philander, as England secured the win with 8 overs remaining.