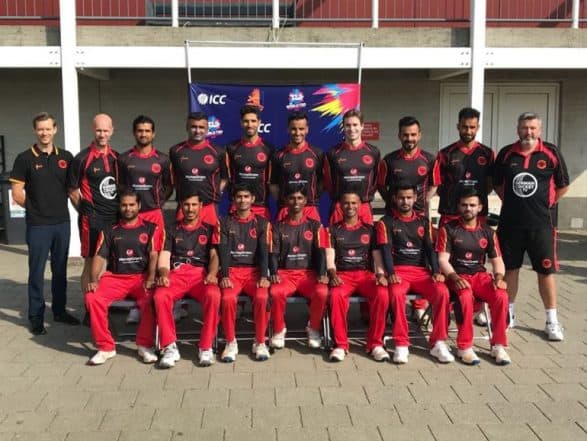 Cricket teams of Germany and Italy will square-off in the bilateral T20 International series. The series will comprise of two matches and interestingly, will take place on the same day, which his May 25, Saturday. Sportpark Maarschalkerweerd in Utrecht will host all the matches between Germany and Italy. Meanwhile, if you are looking for GER vs ITA 1st T20 live streaming online, then scroll down for all the information. Germany vs Italy Cricket Score 1st T20 Match.
Germany are ranked 34th on the ICC Rankings for T20I teams and have thus far played three T20 Internationals. Interestingly, The German side is undefeated in T20Is as they defeated Belgium 3-0 recently. Meanwhile, for Italy's cricket team this will be their first T20 Internationals.
Germany vs Italy T20I match will apparently have international status. The two matches will help both the teams prepare for the upcoming ICC World T20 Europe finals. Italy will be looking forward to make an impression on their T20I debut.
When to Watch GER vs ITA Live Action? Know Date, Time & Venue Details:
GER vs ITA T20 match will be played on May 25, 2019 (Saturday). The match will begin at 03:30 pm IST (Indian Standard time), 09:00 am GMT and 11:00. The Germany vs Italy match will be held between at the Sportpark Maarschalkerweerd in Utrecht
GER vs ITA Live Streaming, Live Telecast Online & Live Score Updates
Sadly it appears that there won't be any live telecast of GER vs ITA T20 in India or elsewhere. Fans can, however, catch live streaming online of GER vs ITA match on European Cricket Network's (ECN) YouTube channel here. Good news for fans is that the GER vs ITA live score updates are available here.
Embedded Video of GER vs ITA Live Streaming Online
Italy Squad: Fida Hussain, Gian Meade, Bentota Joy Perera, Qasim Janjua, Manpreet Singh(w), Baljit Singh, Gayashan Munasinghe(c), Jaspreet Singh, Abdul Rehman, Michael Ross, Nicholas Maiolo, Rakibul Hasan, Charanjeet Singh, Shameera Nuwan Arachchige.
Germany Squad: Rishi Pillai, Vijayshankar Chikkannaiah, Mudassar Muhammad, Venkatraman Ganesan(c), Daniel Weston(w), Rohit Harmanjot Singh, Amir Mangal, Asad Mohammad, Abdul Rahimzei, Izatullah Dawlatzai, Muslim Yar Ashraf, Ahmed Hamid Wardak, Sahir Naqash, Sajid Liaqat.