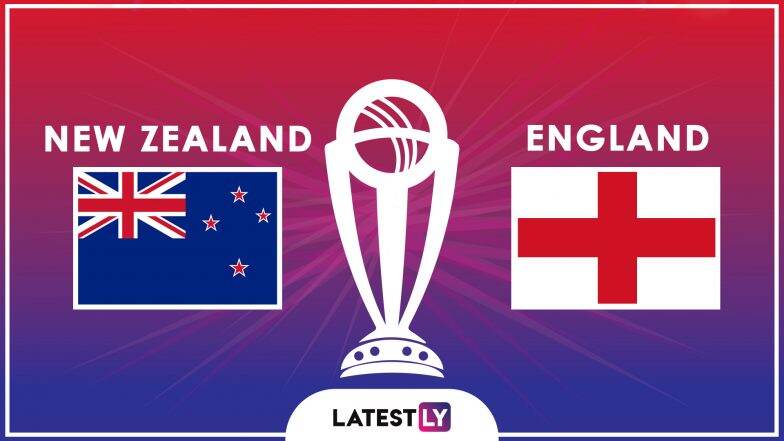 England and New Zealand are set to play the final of ICC Cricket World Cup 2019 on July 14 (Sunday) at the Lord's Cricket Ground in London. It all boils down to England versus New Zealand at Lords in the ICC World Cup 2019 after a month and a half of gruelling campaign. The two teams, hoping to win their first title have played some extraordinary cricket in the build up to the final. They have kept their nerves on important occasions and won those moments in style. England have been on the ascendency in the fifty over format for the past three years while the Black Caps with their stable side managed to reach their second consecutive final. New Zealand will be hoping they are in the contest this time around after an abject surrender against Australia in the 2015 World Cup final in Melbourne. If you're searching for live cricket streaming of New Zealand vs England final match on Hotstar, free telecast of NZ vs ENG on Star Sports, and other TV channel details, along with live score updates and ball-by-ball commentary, scroll down. New Zealand vs England Cricket Score Final ODI Match in ICC Cricket World Cup, 2019.
The return of opener Jason Roy in the playing eleven has significantly boosted the home team. He has been brilliant in each of the last three England's game and along with Jonny Bairstow, has set up the platform for the middle order to score big. The critics had said England only fair better if they bat first and this notion was put to bed when they dismantled Australia in the semis. The likes of Chris Woakes and Jofra Archer had a field day with the bowl. The Kiwi batting is suspect, and this opens up an opportunity for England to stifle them. They have been branded as the favourites for the contest due to their overall superiority in terms of individual talent, but Eoin Morgan will keep their feet firmly rooted. NZ vs ENG Head-to-Head Record: Ahead of ICC CWC 2019 Final Clash, Here Are Match Results of Last 5 New Zealand vs England Encounters!
New Zealand, just like any other ICC event, have performed well and it will be one of the most remarkable cricketing stories if they manage to cross the line. Their strength lies in their bowling and fielding which makes even small targets a real challenge for the opposition. Their Achilles heel is their batting which led them down in the 2015 final too. Martin Guptill has had a torrid campaign so far in England where barring the first game, he has scored virtually nothing. The failure of the openers puts Kane Williamson and Ross Taylor under immense pressure. The two all-rounders who come lower down the order have not done anything significant with the bat which needs to be addressed. Let's check out free live streaming online and telecast details of ICC Cricket World Cup 2019 final. New Zealand vs England World Cup Head-to-Head: Ahead of ICC CWC 2019 Final Here's a Look Back at Previous NZ vs ENG WC Clashes.
New Zealand vs England, ICC Cricket World Cup 2019 Final Match Schedule (Date, Match Time, Venue Details)
New Zealand will take on England in the final of ICC Cricket World Cup 2019. The thrilling contest will be held at July 14, Sunday at Lord's Cricket Ground in London. NZ vs ENG fixture will have a start time of 3:00 pm IST (Indian Standard Time) or 09:30 GMT local time. Captains Kane Williamson and Eoin Morgan will step on the field for the toss at 2:30 pm IST or 09:00GMT.
New Zealand vs England, ICC Cricket World Cup 2019 Final Match Free Live Telecast (TV Channels in India, England and New Zealand)
While Team India might be out of contention to lift the World Cup trophy, the excitement to follow the tournament does not end for fans. Viewers in India can catch New Zealand vs England live action in ICC Cricket World Cup 2019 final on Star Sports India network, the official broadcaster of ICC Cricket World Cup 2019 in India. Check channels - Star Sports 1, Star Sports 2 or Star Sports 1 Hindi along with their HD channels on July 14 to enjoy the match live and exclusive. Apart from Star Sports Network, enjoy the game on PTV Sports, Ten Sports, Sky and Gazi TV and other options in different parts of the world.
New Zealand vs England, ICC Cricket World Cup 2019 Final Match Free Live Streaming Online, Ball-By-Ball Commentary and Live Score Updates
Hotstar, the digital arm of Star India will bring New Zealand vs England, ICC Cricket World Cup 2019 final live via its streaming online option. If you are a Jio subscriber you have free access to watch India vs New Zealand match on Hotstar and Jio TV online. You can also tune into Cricket 365 and Willow TV. So, enjoy the game and not only depend on television channels and cable connection.
A one-off game where the past records and form count for nothing, the 2019 World Cup final is a clash between two styles – England have the flamboyance while New Zealand are known for their calmness.