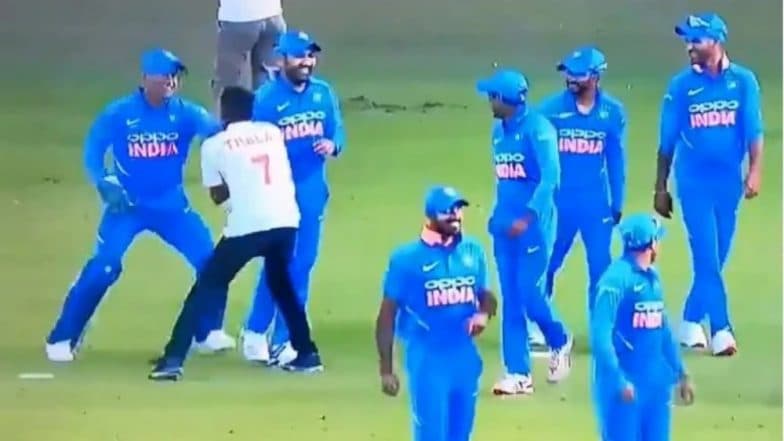 MS Dhoni has a huge fan following and on several occasions has been mobbed by the fans. This time it was during India vs Australia, 2nd ODI 2019 at the Vidarbha Cricket Association, Nagpur that the former Indian captain was chased by a pitch invader. It was after Indians finished batting the hosts stepped on to the field, a pitch invader broke the security cordon and stepped on to the field to get the glimpse of the Men in Blue. He first walked up to Virat Kohli who was quite unhappy with the act. MS Dhoni Dismissed for a Duck for the First Time in Nine Years At Home During India vs Australia, 2nd ODI 2019.
The man then walked up to MS Dhoni, who was in a mood to play a little chase and run game with the invader. Dhoni ended up running away from the man but finally met him near the stumps. The man shook hands with Dhoni and touched his feet. The video of the incident went viral on social media and was shared by many Internet users.
Check out the video below:
Rest of celebrities- Guards, save me from him. He might hurt me.

Dhoni- aa ja beta, pakad ke dikha. #Dhoni #CaptainCool pic.twitter.com/m2RWDVPXGj

— Abhijeet (@TheGadgetSpy) March 5, 2019
Talking about MS Dhoni, the nation pinned hopes on the former Indian captain as the batting line up of the hosts collapsed like a pack of cards. But Dhoni too made way into the pavilion on the score of 0. This was the first time in nine years at home, that Dhoni got out on a duck. Virat Kohli stood tall scoring a century. Kohli made 116 runs from 120 balls hitting 10 boundaries and no maximums.