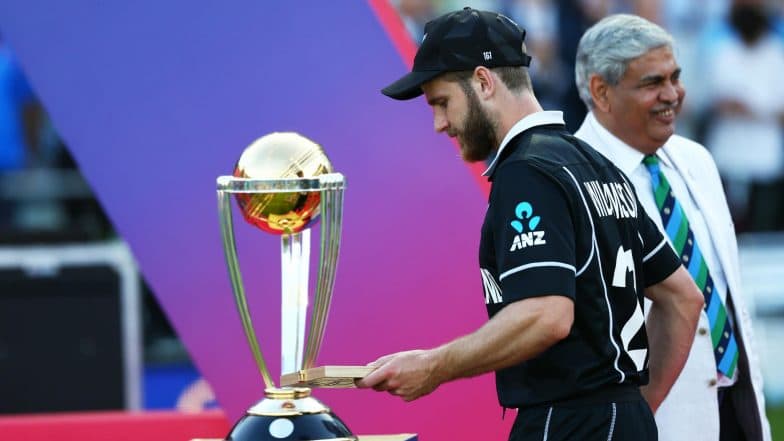 "ICC how you decide world cup winner by 4s?" "England: We have never won the WC in 44 years. ICC: Hold my cup." "So #ICCRules count number of boundaries, why not count NZ had 2 wickets left while Eng were all out? Both scored 241 in 300 balls." "England won ICC by Rules! New Zealand won by hearts!" New Zealand vs England, ICC CWC 2019 Stat Highlights: ENG Becomes Third Host Nation to Win the Cricket World Cup, Beats NZ on Boundary Count.
These type of questions have emerged in social media and many more criticising the International Cricket Council (ICC) ever since the most controversial World Cup match between hosts England and New Zealand. CWC 2019 Funny Memes: From Sarfaraz Ahmed's Yawning to Yuzvendra Chahal's Pose, Revisiting ICC Cricket World Cup 2019 With Most Hilarious Jokes and Memes.
The match on Sunday, at England's Lord's stadium, saw Blackcaps batting first and posting a target of 241 runs. England while chasing was able to get the exact same score, resulting in a tie. The match was pushed to super over, however, both the teams scored 15 runs each. Eventually, England was crowned winners because they had scored more boundaries during the match.
Although the conclusion was according to ICC's tie-breaking rule, it didn't go well with the fans. Lots of memes and criticism poured in social media after results were declared.  How And Why England Won ICC Cricket World Cup 2019 Final Against New Zealand Despite Match and Super Over Being A Tie? Here's What Rules Say.
Here's how Twitter reacted:
If boundaries speaks then what about the wickets..

NZ's are the hero of the match .. 😎

They worth for it.. ❤️❤️

Disappointed 😞 by illogical rules..

Wickets are more valuable than boundaries..#KaneWilliamson #shameonicc

— azar raj (@azar_raj) July 15, 2019
What if both teams had equal nubmer of boundaries?

Winner would have been decided by measuring the weight of Captain?? 😂😂#shameonicc

— vinay (@binni050) July 15, 2019
This is really a joke what's the point of such rules they take a count of boundary why not of wickets taken ???.... This is not what they call True Sportsmanship. #shameonicc

— HRISHIKESH (@hrishikesh_12) July 15, 2019
Almost every cricket fans to ICC right now #shameonicc #ICCRules pic.twitter.com/ommmplCQ92

— Vinaykumar (@Vinayku50984288) July 15, 2019
This, however, isn't the first time the cricket governing body has had to face the wrath of irked fans. In fact, during the last over of England's inning, six runs were awarded for the overthrow. According to Law 19.8, pertaining to "Overthrow or wilful act of fielder", five runs should have counted instead of six runs.