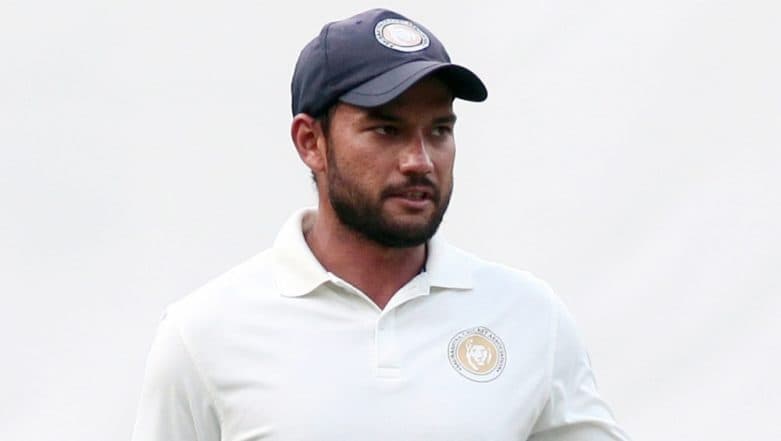 Saurashtra cricketer Sheldon Jackson has been in the news for his comments questioning the selectors for dropping him from India A side despite scoring 854 runs in the last Ranji season. In the comment posted by Jackson on Twitter, he asked the selectors the reasons for dropping him. The tweet received a lot of support from the fans. But this one supporter cited the example of KL Rahul and asked the Saurashtra batsman to develop a friendship with Anushka Sharma.  Sheldon Jackson Slams Indian Selectors for Ignoring Small State Players, Says 'Selectors Should Be Transparent and Players Deserve to Know Where They Lack'
The derogatory tweet did not go down well with the Saurashtra star and he slammed the netizen. Sheldon Jackson was quick enough to teach him manners and put the netizens in his place. The batsman asked him to keep families away from the game. Check out the tweet below:
Surya, please learn some manners and think before you tweet. This is so disrespectful towards KL and Anushka who have nothing to do with it. Keep families away from cricketing matters! https://t.co/uJ4gWlwynk

— Sheldon Jackson (@ShelJackson27) September 10, 2019
In a series of tweets, Sheldon pointed out that his team Saurashtra played the Ranji Trophy finals thrice yet not a single performing on all platforms was picked up for India A series. In his next tweet he also Sheldon also spoke about how the selectors sideline players from the smaller states. In the third tweet, he urged the selectors to be transparent.
Check out his tweets below:
1/1 Saurashtra has played the ranji trophy finals this year, and surprisingly still no player even after performing at all platforms, dont get picked for the A series. so is the importance of playing the Ranji trophy finals zero.

— Sheldon Jackson (@ShelJackson27) September 2, 2019
Second one
2/2 or is that small state sides arnt taken seriously coz in the last 5 years @saucricket has played 3 finals under sitanshu kotaks coaching, (we have some very good performers since recent years with the bat and ball. ) but not got the deserved credit.

— Sheldon Jackson (@ShelJackson27) September 2, 2019
Last
i am told not to question, but i strongly believe that we represent this beautiful organisation and association and we as players surely deserve to know why, and where we lack , orelse our carriers are just to goin to end wondering why🙏🏻. selectors should be transparent.

— Sheldon Jackson (@ShelJackson27) September 2, 2019
The senior Saurashtra batsman was also snubbed from Duleep Trophy this year. Needless to say that the cricketer is quite frustrated about the selection process. Coming back to the cricketer schooling the netizen, we say, "Well done boy."