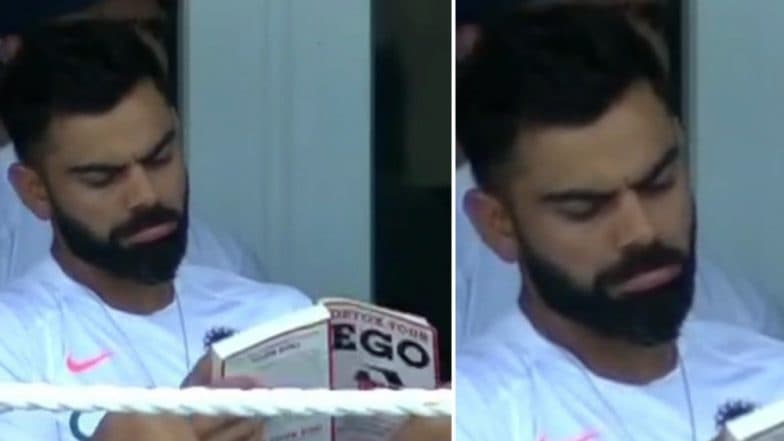 Virat Kohli was once again at the wrong end of things. This time though it wasn't for anything he had done on the field but off it. Kohli was trolled by the Indian cricket fans for reading a book "Detox your Ego." The Indian skipper was caught engrossed into the book in the comfort of his dressing room, while Ravindra Jadeja and Ishant Sharma kept working at the crease to take India close to 300 runs. Seeing Kohli turn to books for gaining some control over his aggressiveness and 'ego' fans advised him to read more such books. India vs West Indies Live Cricket Score.
Kohli isn't new to aggressiveness and ego in his cricket career so far. He over aggressiveness has often resulted in him getting into confrontations and arguments with the opposition players. But most recently it seems to have crossed borders and affect his teammates too. Jasprit Bumrah Hits Back at Trolls with Cryptic Reply to Comments on Photo of Him in Transparent Underwear (See Pic).
Virat Kohli Reading 'Detox Your Ego' Book
Virat reading the book, 'Detox your ego' #WIvIND

— Aishu Haridas (@imaishu_) August 23, 2019
The 30-year-old batsman's 'egoistic' issues first came to the fore when former India head coach Anil Kumble resigned for his role as an Indian cricket team head coach. Kumble, a cricketing legend, in his statement to BCCI mentioned about Kohli's ego and reservations about certain decisions taken by him.
Recently, Kohli was also reported to be allegedly involved in a rift with Rohit Sharma and a section of the Indian players in the team dressing room. Rohit and the said players were speculated to have been disappointed with the skipper's attitude and decision making without consulting the team. Take a look at how fans reacted to Kohli reading the book.
Kohli Reading a Book!!
Kohli reading this 😂😂😂🙏 pic.twitter.com/WotBKYi3Mp

— Shantanu Shrivastava (@DaKingInDaNorff) August 23, 2019
Kohli is Reading an 'Ego' Book
KOHLI IS READING A BOOK AND IT SAYS "EGO" 😂😂😂😂

FUCKING HILARIOUS.

— SwingAndSeam (@IsSwingAndSeam) August 23, 2019
Wonderful
Kohli reading a book "Detox Your Ego"

Wonderful 😊

— Mr. A 🏏 #20xZoom (@cricdrugs) August 23, 2019
Book Insights
lmao Kohli reading a book that says 7 esay steps to achieve success and happiness 😂😂dude watching too many YouTube videos these days

— Sayan (@earthtrackbully) August 23, 2019
Who Convinced Kohli to read
Just trying to think of who would have convinced Virat Kohli to read that "Detox your Ego" book. #WIvIND #INDvWI

— Suneer (@suneerchowdhary) August 23, 2019
Kohli Should Read These Type of Books
Kohli should start reading books on true leadership and team work 😂

— Offspin.inc (@undercutter_) August 23, 2019
Kohli Trying to Subdue Himself
Fans: enough of being nice, we want aggressive Kohli back

Kohli: pic.twitter.com/YxTEZIBpuv

— po (@JoBhejiThiDuaa) August 23, 2019
What is Kohli's Takeaway
Just saw Virat Kohli reading a

book 📖 on EGO, wondering what is his take away... #INDvsWI

— Sanjay D (@Sanjay0Deva) August 23, 2019
Book Already in Demand
@StevenSylvester I think Kohli was reading your book. Expect a few hundred sudden orders from India now lol

— Vedant Pratap Singh Jadon (@vpsjdon) August 23, 2019
Some even compared Kohli to India women's team ODI captain Mithali Raj, who is renowned for reading books while sitting idle in the dressing room. Raj has often been seen reading a book whenever she is sitting in the dressing room during a match.
Virat Kohli Imitating Mithali Raj
The trend of Indian captains reading books continues. #WIvIND pic.twitter.com/zd2U6S0CIg

— Johns (@CricCrazyJohns) August 23, 2019
Kohli Trying to be Mithali Raj
Trying to be Mithali Raj....#WIvIND https://t.co/FS5KUCMGMp

— Johns (@CricCrazyJohns) August 23, 2019
Meanwhile, India were bowled out for 297 on Day 2 of the first Test against West Indies at Antigua. Ajinkya Rahane (81) and Ravindra Jadeja (58) scored half-centuries each to help India reach that score after Kemar Roach had initially reduced India to 3/25. Kohli was dismissed for 9 runs by Shannon Gabriel.