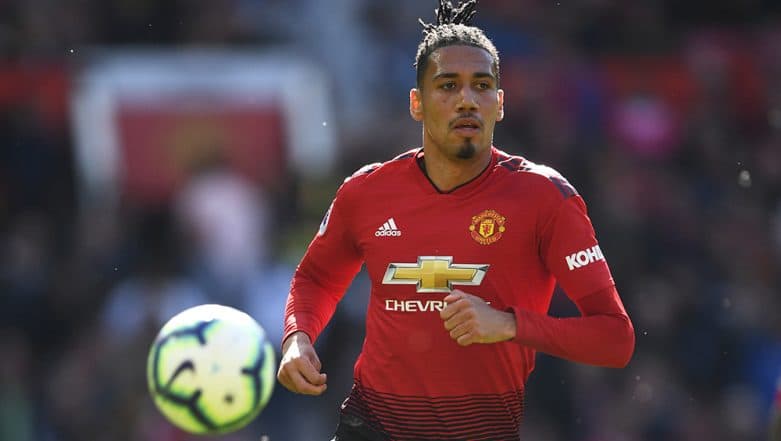 Chris Smalling would leave Manchester United for a season-long deal with Italian club AS Roma, said reports on Thursday. Smalling, who arrived at Old Trafford in January 2010, was keen on leaving the Premier League club after falling down the pecking order under new United head coach Ole Gunnar Solskajer. The loan deal – subject to a medical – could be completed in the next 48 hours said reports after both clubs agreed on a €3m loan deal. United fans and netizens couldn't control their excitement after seeing another of United's flops depart the club for good. Chris Smalling Transfer Latest News Update: Manchester United Centre-Back to Join Serie A Club AS Roma on Season-Long Loan.
Smalling, 32, featured regularly under former United manager Jose Mourinho and was also a regular for the Norwegian when he arrived as an interim manager in December. But Smalling does not seem to be a part of Solskjaer's long-term plans. He was left out of the squad for all three of Man United's Premier League games this season and was only expected to play from the bench had he stayed.
Thank You Ole
Ha! Thank you Jesus.. No more Chris Smalling ... pic.twitter.com/MHBJDgUYpr

— ERONZ (@TheyCallMeEronz) August 29, 2019
Wait Smalling is Leaving
Wait Chris Smalling is leaving #MUFC pic.twitter.com/0wXc8lDlJw

— SimplyDGB (@MancMic) August 29, 2019
Future Partnership
Fazio Smalling partneship with Roma pic.twitter.com/IAihV9cxTy

— Hououin Kyouma ⓭ (@AlessioTackle) August 29, 2019
Man United Fans React
Chris Smalling is going?! pic.twitter.com/S3ynIYTX4W

— Babs (@Babs_SP) August 29, 2019
A Story Untold
Still got no idea who this pass was meant to 😂

Thanks for the memories Smalling 🔴 pic.twitter.com/SVk2e4ZVWG

— That Mech Kid ! (@r3al____AJ) August 29, 2019
Happy Fans!!
Some fans think Man United are sad because we are not in the draw but I am happy Smalling is about to go

— Dembi. 🗨️ (@dembi_10111) August 29, 2019
Give Ole Gunnar the Broom. It's Clean-Up Time!!
FELLAINI - GONE

LUKAKU - GONE

HERRERA - GONE

SANCHEZ - GONE

SMALLING - GONE*

JONES - NO GAME TIME

MATIC - NO GAME TIME

ROJO - NO GAME TIME

DARMIAN - NO GAME TIME

Give my manager the broom. It's clean up time pic.twitter.com/7JNDEds82r

— AB (@A_A_Barrow) August 29, 2019
Roma's New Legendary-Trio at the Back
Roma, the grand stallion's of Italian football, with a defensive partnership of Fazio and Smalling. pic.twitter.com/gDV1qAMH7B

— ryan (@ryhi91) August 29, 2019
There You Go!!
Smalling + Jesus + Fazio = pic.twitter.com/RXOv3zIJCk

— saʍ (@HossamMustafa90) August 29, 2019
They'll All Leave If Your Stay Shush
Bhai ye kya hogaya? I didn't use Twitter for 3 days and Sanchez and Smalling left within that time 😂😂😂 name the next player I'll go again

— Arjun Kansal (@RealKansal) August 29, 2019
Good He is Leaving
Anyone defending Smalling is off their head. He would be a nightmare with VAR he constantly drags at people even doh hes 6ft4 and he cant play football, cant pass and Tuanzebe is already better. 4 cbs of Maguire, Lindeloff, Axel and Bailly is good for me #MUFC

— Kinsella1988 (@United6899083) August 29, 2019
Some Good Memories
Mike Smalling Leader Legend . Going to kill it in Serie A . #mufc pic.twitter.com/GEbFLlI9CV

— Satyajit Dey Pereira (@satyajitdp) August 29, 2019
The Next Decade Starts
We are Halfway through our decade of shit.. Cheers to the next 5 years #MUFC #Smalling

— Haydar🦁 (@Dhermelawler38) August 29, 2019
Farewell Sweet Prince
Chris Smalling.

Farewell, sweet prince. pic.twitter.com/3w3iV0BtUG

— Jash Vatsaraj (@jash_vatsaraj) August 29, 2019
The arrival of Harry Maguire for a record fee from Leicester City and also the emergence of Axel Tuanzebe, has seen Smalling fall behind at Old Trafford after nine years of service. United manager Soslkjaer prefers Victor Lindelof and Maguire as his first two centre-backs, while Tuanzebe seems to be the third-choice at the back-line for United. Tuanzebe, who impressed for Aston Villa last season, was used from the bench throughout the pre-season and also came in as a substitute against Chelsea.