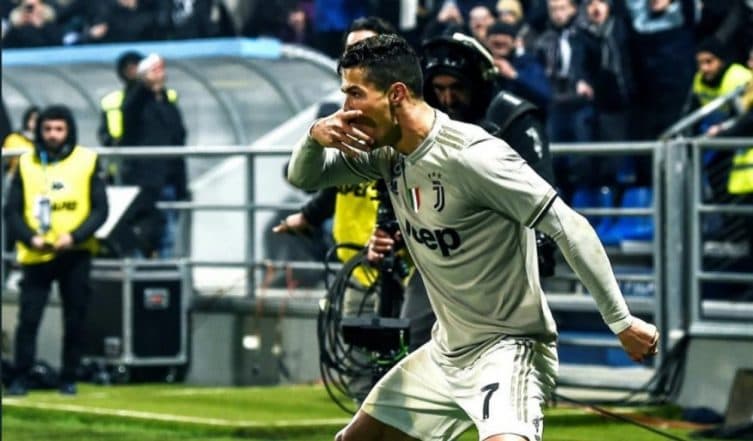 Cristiano Ronaldo was once again blazing guns in Serie A 2018-19 game against Sassuolo during the weekend. CR7 netted the 18th goal of the season and gave an 11 point lead on the Serie A 2018-19 points table. It was in the 70th minute that Ronaldo scored a goal after his teammate Sami Khedira found the net in the 23rd minute. But when went viral CR7's goal celebration where he combined Paulo Dybala's Dybalamask celebration with his trademark Si act. With this, the team won the match by 3-0 and consolidated their position on the Serie A table with 63 points.
Dybala had revealed the meaning of Dybalamask in a Facebook post in 2017. "Dybalamask is really simple: it's the mask of a gladiator!" he explained on Facebook. "When we struggle, sometimes we must wear our warrior mask to be stronger, without losing our smile and kindness!," he further added. The last goal of the match was scored by Emre Can at the 86th minute. Cristiano Ronaldo Rape Case: CR7's Mother Dolores Aveiro Slams Kathryn Mayorga; Says, 'She Wasn't in the Room to Play Cards'.
The video of the goal and the celebration went viral. Check out the video below:
#CristianoRonaldo goal and show own signature style with #dybala mask style#ForzaJuve #FinoAllaFine #Ronaldo #CR7JUVE #CR7 #Juve #CR7JUVE pic.twitter.com/tXqBpRkPdI

— Cr7 Pakistan (@cris7pak) February 11, 2019
Overall, this is his 20th goal for Juventus in 31 games. He also became the highest goal scorer of the Serie A 2018-19. Juventus are scheduled to play Frosinone in the Serie A this Saturday before locking horns with Atletico Madrid in a much-awaited Champions League clash on February 21.