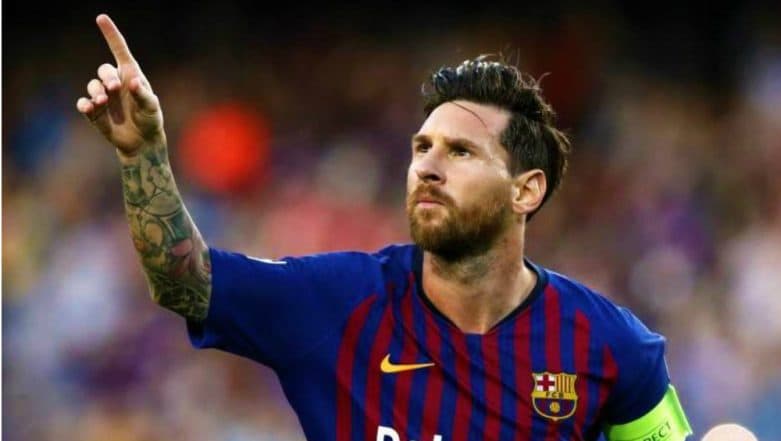 On Sunday, Barcelona's Lionel Messi became the first player to score 400 goals in La Liga. Barcelona played against Eibar and won the game by 3-0. Messi in his 435th appearance and scored a goal at the 53rd minute. With this victory, the team remained on the top of the La Liga points table with 41 points. Out of 19 matches played by Barcelona, the team has won 13 matches and has lost a couple of them. 'Another Galaxy': Messi's 400 La Liga Goals is 'monstrous'.
Luiz Suarez scored a couple of goals one at 19th and then at the 59th minute. Messi could have scored another goal but was obstructed by Eiber goalkeeper Asier Riesgo. The 31-year-old is the second player to score 400 goals across Europe's top five leagues, following Cristiano Ronaldo whose 409 league goals in 507 games have been scored in England, Spain and Italy. Check out the video of Messi's goal:
Lionel Messi 400th La Liga Goal vs Eibar ! #BarcaEibar Lionel Messi 400th La Liga Goal vs Eibar ! #BarcaEibar

5% OFF Real Life FIFA 19 cards https://t.co/fRKQMyNtXq

50% OFF FIFA 19 https://t.co/iBojLbrCdv

Subscribe to my channel for more: … https://t.co/PSMycJZKOQ

— Mojo Radio (@mojoradio4you) January 14, 2019
arcelona also hailed the feat.
👑🐐 His goat-ness. pic.twitter.com/n671ZPBphs

— FC Barcelona (@FCBarcelona) January 13, 2019
"His numbers are stratospheric, they are incredible, but it's not just the goals, it's everything else he does too," said Barca coach Ernesto Valverde, in praise of his talismanic forward. Suarez scored 14 goals this season "Eibar are a very competitive team, they made it hard for us to create chances but we also knew that we could overwhelm them in attack and that's what we did eventually. Once we scored, the game opened up for us" said Suarez.