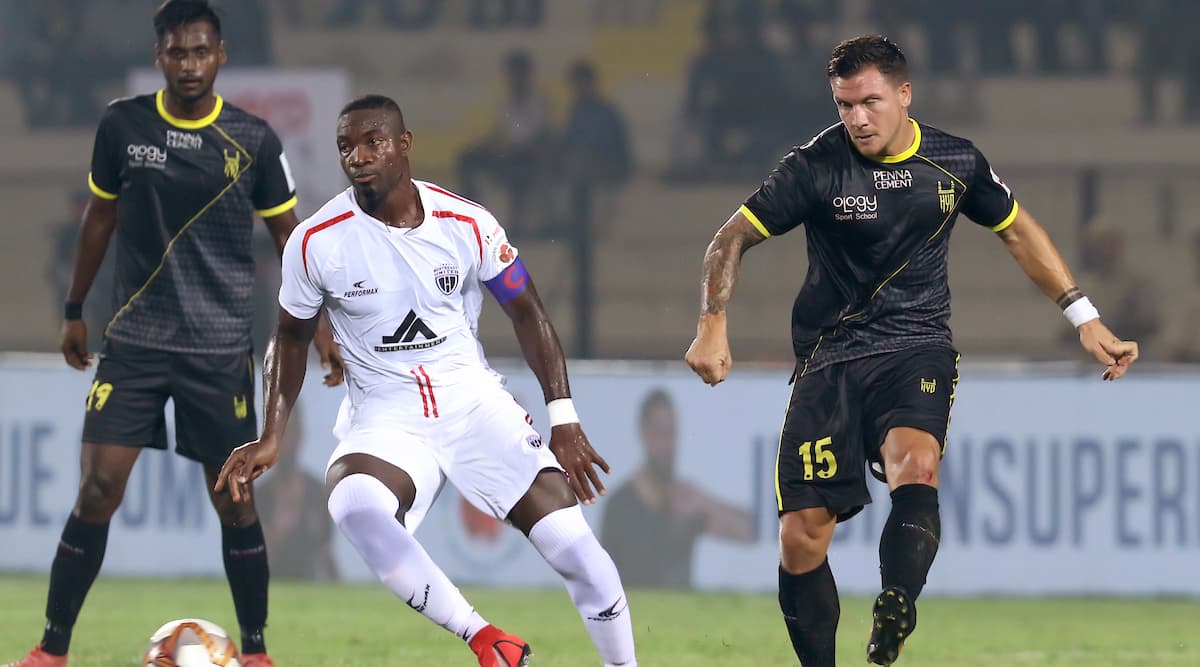 NorthEast United beat Hyderabad FC 1-0 with a last-gasp penalty to continue their unbeaten streak and go on top of the Indian Super League (ISL) 2019-20 points table. Maximiliano Barreiro scored the lone goal from the spot in the 86th minute after Jose Leudo's shot caught Hyderabad defender Shankar Sampingraj's trailing hand inside his own penalty box. The 1-0 win took the Highlanders' tally to two wins and two draws after four matches in the competition. NorthEast United now have eight points, while Hyderabad FC after their third defeat in four games dropped down to ninth in the team standings with just three points. NorthEast United Beat Hyderabad FC.
Argentine forward Barreiro send Hyderabad goalkeeper Kamaljit Singh the wrong way to convert from the spot and hand NorthEast United the win in an otherwise drab game between the league's two contrasting teams. Barreiro's goal came four minutes from the final whistle when Hyderabad centre-back Shankar – trying to head clear a shot from Leudo – handled the ball right in front of the goal to gift NorthEast United a penalty.  HYD vs NEUFC, ISL 2019 Match Result: NorthEast United's Last-Minute Goal Takes Team to the Top of the ISL 2019-20 Points Table
UK Ambassador Watches Hyderabad vs NorthEast United
As a boy going to a midweek night matches in 🇬🇧 was so exciting. Spotting fans in colours in the way, seeing the distant glow of the lights, worrying the traffic will stop you reaching on time even when you are an hour early.

Tonight it is all revisited.#HYDNEU #LetsFootball pic.twitter.com/Emuo9W0QJD

— Dr Andrew Fleming (@Andrew007Uk) November 6, 2019
NorthEast United Showed More Resilience
It ended:-@HydFCOfficial (0)0@NorthEastUtd (0)1 Barrierio 84 pen

Attendance 8190

Hyderabad had many chances first half but NEU showed more resiliance in the last quater.#HYDNEU #LetsFootball #ISL pic.twitter.com/gntNxMr9CR

— Dr Andrew Fleming (@Andrew007Uk) November 6, 2019
Congratulations Team
Congratulations Team #NEUFC#HYDNEU #HeroISL #LetsFootball #TrueLove

— 🅂🄾🄼 🄽🄰🅃🄷 (@sombangalore) November 6, 2019
The Battle is Lost But War Continues
The battle is lost but the war continues. We'll come back stronger next time! Thank you for the great turnout and all the support Hyderabad.#AbHyderabadKhelega #FullTime #HYDNEU #HyderabadFC #ISL2019 #HEROISL #IndianSuperLeague #Hyderabad #LetsFootball pic.twitter.com/9YfP6hCIhI

— Hyderabad F.C. (@HydFCOfficial) November 6, 2019
Tough Night Hyderabad FC
What a game.hyd looking solid.tough night lads #HYDNEU

— Nuran Nuran (@angelpriya6969) November 6, 2019
Don't Miss Your Chances
What does #HYDNEU teach you? Whether its football or life take the chances or you will rue it!! Something which i thought not true until recently...

— Jayant (@jackofall91) November 6, 2019
Unlucky Hyderabad
Decent performance and turnout at Hyderabad. Unlucky to concede in the dying minutes. #HYDNEU

— Priyavarshini (@priyavarsini) November 6, 2019
Drab Game
Worst game of the season so far? #HYDNEU #HeroISL

— R2-G2 (@Mrjoykill) November 6, 2019
Earlier, NorthEast started with the same playing XI that an entertaining 2-2 draw with FC Goa, while Hyderabad dropped Robin Singh for Gani Ahmed. the visitors were, however, handed a big blow when Asamoah Gyan was forced off but managed to still come home with a vital three points.