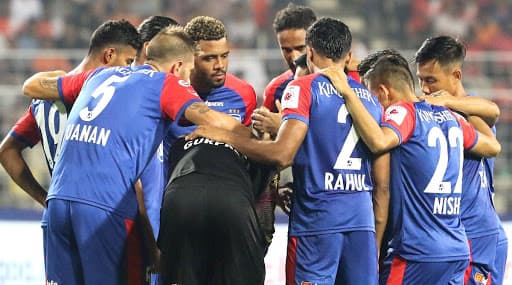 Bengaluru FC are winning the hearts of many people on Twitter with their recent gesture towards a pregnant fan. Meghna Nair, who is 33 weeks pregnant took to twitter to reach out to the defending ISL Champions Bengaluru FC and seek permission to carry hot water from her home to the match against Kerala in the Kanteerava Stadium. The fan who previously had issues with staying hydrated and getting access to proper drinking water during games, reached out to the India Super League club to seek permission to make some arrangements of her own. The club responded with a heartwarming gesture towards the fan. FIFA World Cup 2022 Qualifiers: What Next for India As World Cup Qualification Hopes Are Virtually Over After 0-1 Defeat to Oman?
Having attended some previous matches, Meghna explained the inconvenience she had to face during those games. 'Hello @bengalurufc! Is there any possibility that I could permission to carry some hot water from home in a reusable bottle?? I'm currently 33 weeks pregnant & I need to stay hydrated also take my medication. It was terribly inconvenient when I came to watch previous matches!!' the fan tweeted. However less than two hours later Bengaluru surprised her with a touching gesture and they gave Meghna an upgrade to the Owners box for Saturday's game. 'Hey, Meghana. We love the fact that you're introducing your little one to the Fortress already!' Bengaluru added to their tweet. Sandesh Jhingan Slams Sri Lankan Referee for a Wrong Decision During India vs Oman, 2022 FIFA World Cup Qualifiers, Netizens React.
A Seat in Owner's Box
Hey, Meghana. We love the fact that you're introducing your little one to the Fortress already!

We'd be more than happy to accommodate you in the Owner's Box for Saturday's game, where there's hot water and more. This one's on us. 🙂 #FansFirst #BENKER https://t.co/xpNZHYKe3Q

— Bengaluru FC (@bengalurufc) November 20, 2019
This gesture from Bengaluru won the hearts of many fans and they praised the club for their actions. Many fans called Bengaluru the best club in the country while some stated the club as a family.
A Family!
BFC is not just club! it's a family ❤️

— Shreesha Shastry (@ShreeshaShastry) November 20, 2019
Best in the Country!
There's a reason why we're the best club in the country! #bfcforlife

— Satish Perumal (@satperumal) November 20, 2019
The Best!
East or West @bengalurufc Is the Best

— DARSHAN ‌‌‌ದರ್ಶನ್ (@Iamdarshanr) November 20, 2019
An Example!
Nice gesture.....you are setting a hell lot of examples to be followed in Indian football

— Abhijit Das (@aabhi_das) November 20, 2019
ISL returns this weekend with a mouthwatering derby between Bengaluru FC and Kerala Blasters FC as the international break comes to an end. The defending champions won their first game last time out and will be eager to extend their winning run in the derby. Kerala, on the other hand, are winless since the opening day and will be looking for a victory.