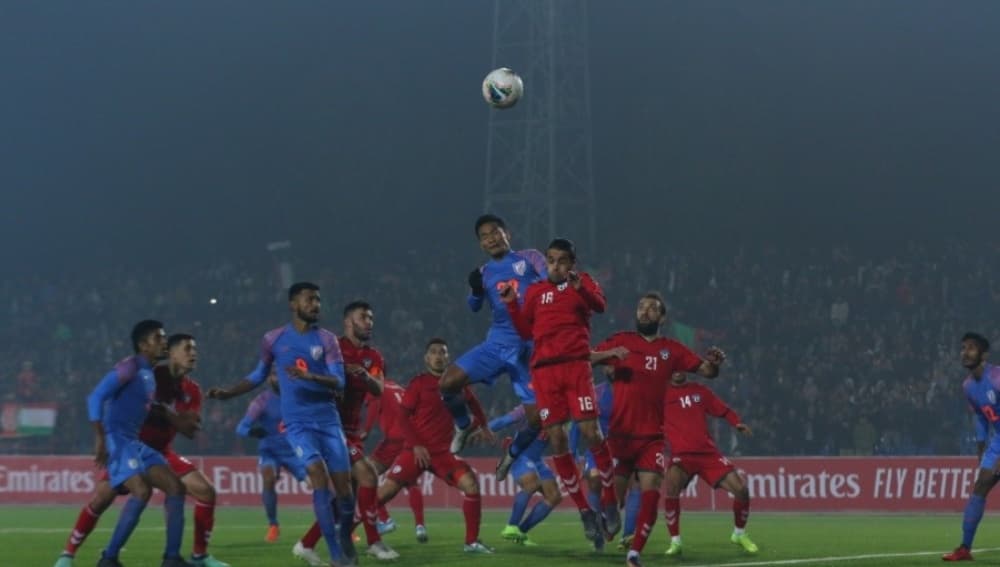 The Indian football team entered a 1-1 draw against Afghanistan at the Central Republican Stadium, Dushanbe at Tajikistan. It was Seminlen Doungel's late goal at the 93rd minute of the game that helped the Indian football team enter a 1-1 draw just before the final whistle of the match was blown. Even in the last game, the Indian football team entered a 1-1 draw against Bangladesh. This did not go down well with the Indian fans whereas a few of them were happy with the performance that the Blue Tigers had put up. The match result evoked a mixed reaction from the netizens. Seiminlen Doungel's Late Goal Helps India Enter 1-1 Draw Against Afghanistan in the FIFA 2022 World Cup Qualifier Match.
Talking about the game, India started off well in the game but missed a few chances. Just before the half-time, it was at the 45th minute that Afghanistan's Zelfy Nazary netted the first goal of the game and put his team on 1-0.  However, for the Indians, the second half was much better as compared to the first half. Once again, India missed a few chances but it was in the final five minutes of the game, Seminlen Doungel who came to India's rescue and netted a goal. Doungel netted the first international goal.
Now, check out the reaction from the netizens below:
More I see of Indian football, more my respect for the fans goes up. #AFGIND #IndianFootball

— Jaideep Ghosh (@jd0893) November 14, 2019
Pathetic night
Pathetic Night ...... 1-1 !!! #WCQ2022 was never in sight though ..... Only kids with alien vision could see #IndianFootball in 2022 Fifa World Cup 😑😑#AFGIND #BlueTigers #BackTheBlue

— Debjit Majumder (@Dmeister89) November 14, 2019
Second half was much better
The problem we are not winning is not the players. It is the formation . Second half was ver ver very better.

— DEEPAK P.M (@DEEPAKPM301995) November 14, 2019
Opps
Karma hit cheap Afghans for time wasting😂😂#AFGIND #AsianQualifiers

— Pritish Ramu (@ramu_pritish) November 14, 2019
Last one
The way #TeamIndia played in the second half 🔥🔥🔥could been a different score line if they would have played the same in first half!! Anyways Well played @IndianFootball 👏 and Round of applause to way fan too 👏 #BackTheBlue #AFGIND

— Shiva Dev (@Shiva_dev7) November 14, 2019
India missed the services of Sandesh Jhingan who had been injured during the friendly game of the Indian Super league. As of now, the team stands on number four of the Group E points table with three points. Needless to say that it will be quite a difficult road for the Indians henceforth.