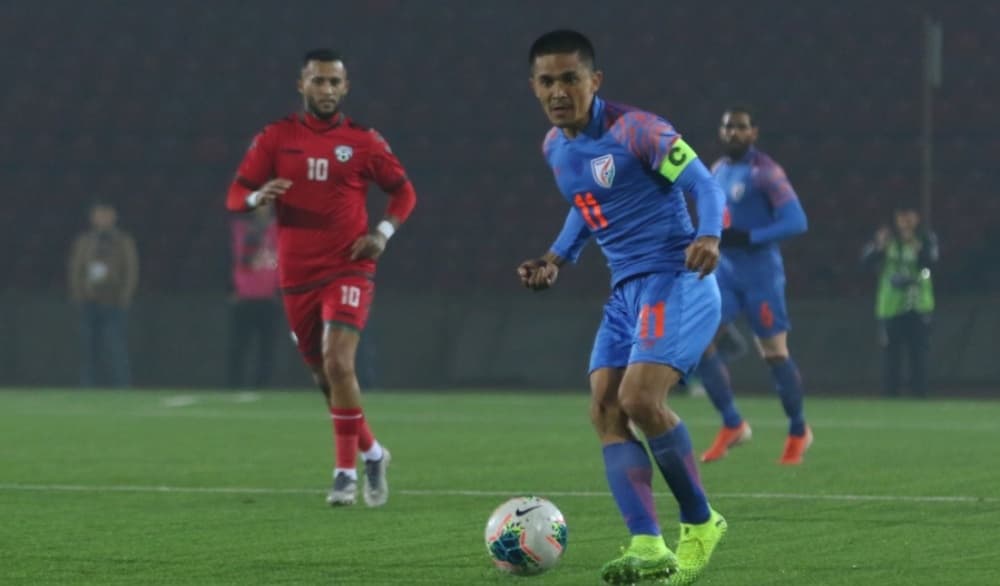 Team India and Afghanistan met in the FIFA 2022 World Cup Qualifier match at the Central Republican Stadium, Dushanbe at Tajikistan. The match ended with 1-1 and thus the Indian team continued to remain unbeaten in the tournament so far. It was Seiminlen Doungel who helped the team save the blushes as he netted a goal in the last five minutes of the game. The Blue Tigers started off quite well with the game as Sunil Chhetri and Pritam Kotal made sure that they would put on the attacking mode. But that just did not help the Indian as they lacked a finisher in the game. One of the biggest flaws that emerged during the game was that India relied way too much on captain Sunil Chhetri.
The Afghanistan team right from the start attacked Manvir Singh and forced him to go on the right-foot which is his weak foot. The Afghanistan team took advantage of the weak Indian defence. India missed the services of Sandesh Jhingan who has been injured. In the first half, it was Afghanistan's defender Zelfy Nazary who was allowed in the box as he netted a goal at the 45th minute of the game and put the team on 1-0. However, this was the first goal that India conceded after playing for 208 minutes away.
Just when the Blue Tigers came back to playing from the half-time, Manvir Singh was substituted from the game with Sahal Abdul Samad but then was brought back. Sadly India missed out on a couple of penalties, however, the strategies did change after the half-time but that just did not help the Indian team to win the game. Just when we thought all was over for the Blue Tigers, it was FC Goa's Seminlen Doungel who netted a goal in the last minutes of the game and the match ended on 1-1. The Indian team will next play against Oman on November 19, 2019.