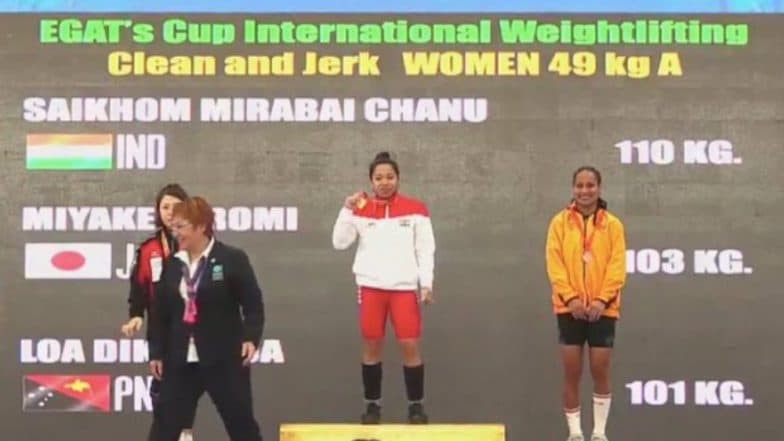 Weightlifter Saikhom Mirabai Chanu made a successful comeback after her nine-month injury layoff to clinch a gold medal at the EGAT's Cup in Thailand. The 24-year-old Manipuri on Thursday Chanu won the 49kg category with an effort of 192 kg– Snatch 82 Kgs, Clean & Jerk 110 Kgs. Mirabai Chanu was making a comeback from the lower back injury that kept her out of action for more than half of 2018, reports PTI.
The 24-year-old Manipuri lifted 82kg in snatch and 110kg in clean and jerk to finish on top of the podium after recovering from the injury, which required extensive physiotherapy. Chanu had missed the world championships last year, a gold level Olympic qualifier, owing to the injury which had also forced her out of the Asian Games in Jakarta.
Chanu last took part at the Commonwealth Games in Gold Coast where she won gold with an effort of 196kg. She had then lifted 86kg in snatch and 110kg in clean and jerk, a Games record and also her personal best.
So many people have played a huge role in getting @mirabai_chanu back from a career threathening back injury #WeightliftingFederation #CoachVijaySharma, #PhysioAakraant, #PhysioChandani @Media_SAI and #TOPS @physioheath @ChrisPedraPT #Dr.Nene #Dr.Daftary @OGQ_India. pic.twitter.com/AnU9qOW7OF

— Viren Rasquinha (@virenrasquinha) February 7, 2019
The gold medal at EGAT's Cup will help Mirabai Chanu in collecting some important points required for the qualification process for the 2020 Tokyo Olympics. Weightlifters are required to compete in at least one Silver Level tournament apart from the gold level in order to make it to the Olympics. EGAT's happens to be the silver level tournament and was the last one remaining for Mirabai Chanu to take part in.