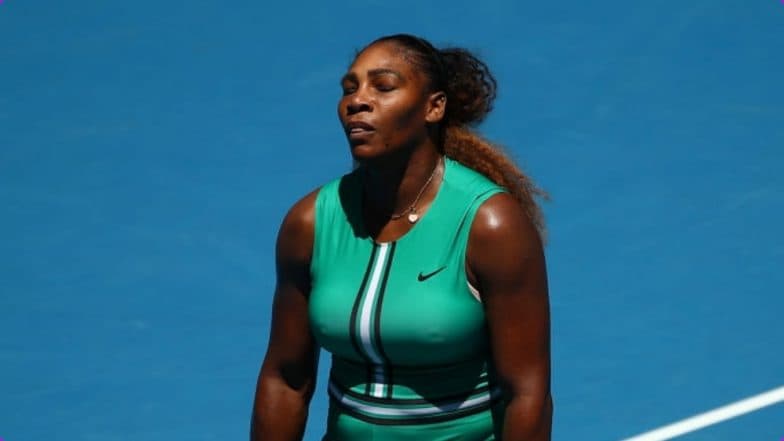 Karolina Pliskova knocked out Serena Williams after defeating the American Tennis star 6-4, 4-6, 7-5 in the 2019 Australian Open quarterfinal match. This was Pliskova's only second win over Serena at a major tournament after the 2016 victory at the US Open. Meanwhile, in a three-set thriller, Serena was handed a defeat as Pliskova progressed to the semi-final of the Australian Open 2019. Stefanos Tsitsipas Becomes Youngest Player to Reach Grand Slam Semifinals Since 2007 at Australian Open 2019, Watch Video
Despite leading 5-1 in the third and final set, Williams suffered the defeat after it appeared that she picked an ankle injury. Pliskova took advantage of Serena's minimum movement and went on to register an impressive win.
Pliskova after the win said that at one stage she thought it was all over for her. "It was tough because she was really playing well. I didn't have many chances in the third set and I was too passive, mentally down. I said let's try this game 5-2, maybe I will have a couple of chances. She did got a little bit shaky in the end. So I took my chances and I won," the 26-year-old Tennis player was quoted as saying by news.com.au. Australian Open 2019: Rafael Nadal Beats Frances Tiafoe 6–3, 6–4, 6–2 to Seal Semi-Final Berth
Williams, who returned to action last year after giving birth to daughter Alexis Olympia in September 2017, earlier defeated Simona Halep to make it to the last eight. Williams registered a hard-fought 6-1, 4-6, 6-4 victory over Romanian world No 1.