The case of exploding phones is getting quite common these days, among which Samsung's Galaxy Note 7 and Note 9 are regular offenders. Now, the newest addition to the list of exploding smartphones is the Xiaomi's A1 device, which is reported to have exploded while charging. Last month, a user named 'nexsad' posted his friend's complaint on MIUI forum explaining how the device exploded. Instagram Went Down and Twitter Was Up With Jokes! Check People's Reactions to Outage of Photo Sharing Platform
The user explains that his friend had kept his phone for charging and went to sleep. After which he mentions that he got up to find his device in a burnt state the next day. The user further adds a warning to rest to the rest of the Mi A1 owners to not to keep the device beside their beds while charging. Instagram Down Globally, Users Unable to Refresh Feed or Log In; Outage Comes Days After Facebook Hack.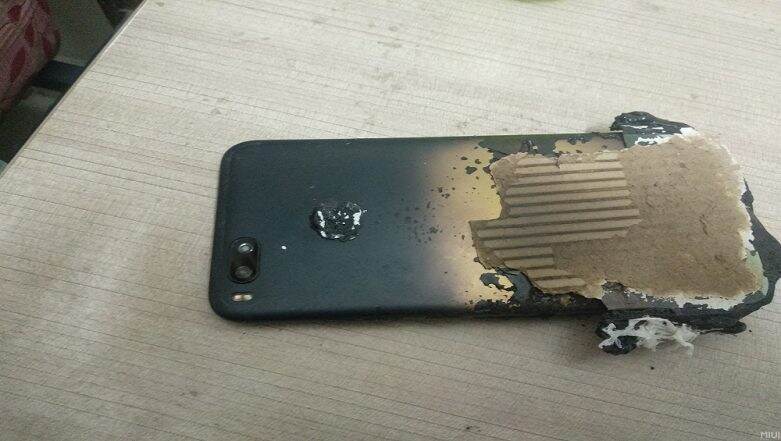 The user also shared photos of the smartphone, which shows that the back cover of the device has been charred, exposing the battery. Xiaomi has responded to the issue with a digital stamp termed as 'Under Discussion'. However, this was not the first device from Xiaomi to have exploded. Last year, Xiaomi Redmi Note 4 was reported to have exploded in the user's pocket, inflicting him with a severe burn. The victim later filed a complaint regarding the issue and insisted compensations for his injury and device. Samsung's Burning Phone Fiasco Strikes Again! This Time Its Galaxy S7 Edge Smartphone in Morocco | See Photos of the Damaged Phone.
Xiaomi launched the Mi A1 its first Android One smartphone last year in August. Priced at Rs 16,999, the device came with a 5.5-inch FHD screen and was powered by the Qualcomm Snapdragon 625 SoC. The smartphone featured a dual camera setup, 4GB RAM and 64GB ROM. Currently, the device has been discontinued and replaced with its successor Mi A2, which was launched this year.