Radiation emitted by smartphones always has been a matter of debate across the world. As per the latest report from Bundesamt für Strahlenschutz, the German Federal Office for Radiation Protection has released the amount of radiation released by the smartphones that are available globally. The radiation emitted from the smartphone is calculated in 'watts per kilogram' and the lower score signifies lower radiation emission from the phone. All Smartphones From Google & OnePlus Were Shipped With Latest Android 9 Pie OS - Report.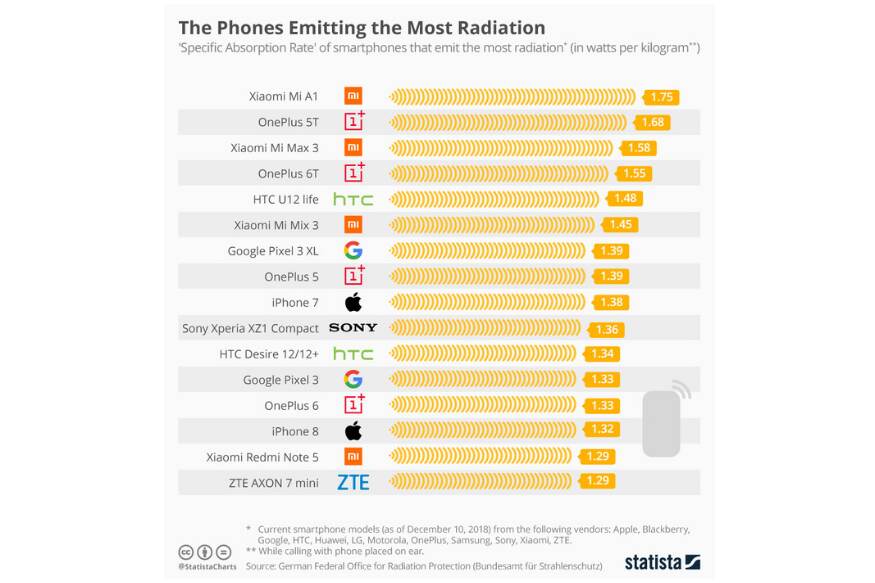 The Indian government introduced new mobile radiation law in September 2012 that lowered the exposure limit of mobile handsets from a SAR of 2.0 W/kg to 1.6W/kg. The Indian government also made it mandatory for wireless device manufacturers to display the SAR scores on the handsets.
Going by the report, the Xiaomi and OnePlus smartphones are among the top 5 devices to emit maximum radiations. The worst offender is Xiaomi Mi A1 which clocked 1.75 W/kg of radiation followed by OnePlus 5T emitting 1.68 W/kg. The third and fourth position is occupied by Xiaomi Mi Max 3 and OnePlus 6T with radiation of 1.58 W/kg and 1.55 W/kg respectively.
Moreover, Google Pixel 3 XL is not far behind with 1.39W/kg of radiation whereas OnePlus 6 logged 1.33 W/kg on the chart. Xiaomi's Redmi Note 5 emitted 1.29 W/kg of radiation. Google, OnePlus: Only Mobile Brands That Shipped All Phones With Latest Android OS in 2018.
Talking about Apple iPhones, the iPhone 7 is the worst offender with radiation of 1.38 W/kg while the 2018 iteration of iPhones logged 0.99 W/kg (iPhone XR, iPhone XS, iPhone XS Max). However, iPhone X logged 0.92 W/kg which is slightly better than the new versions of iPhone.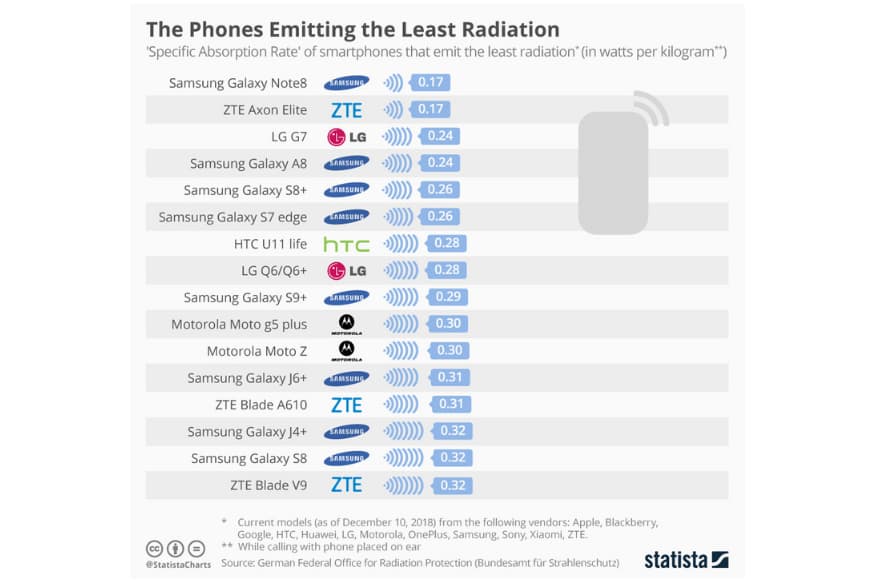 As far as the Samsung smartphones are concerned, the phones are doing fairly well on the radiation charts. Samsung Galaxy Note 8 logged the least score of 0.17 W/kg of radiation whereas Galaxy A8 logged 0.24 W/kg. Moreover, Galaxy S9+ and Galaxy S8+ phones have done well in terms of radiation emission by logging 0.26 W/kg and 0.29 W/kg.
Other smartphones from the manufacturers like LG, HTC and Motorola have also done well in terms of radiation emission. The German Federal Office for Radiation Protection has not tested the devices manufactured by other Chinese phone makers such as Oppo and Vivo.