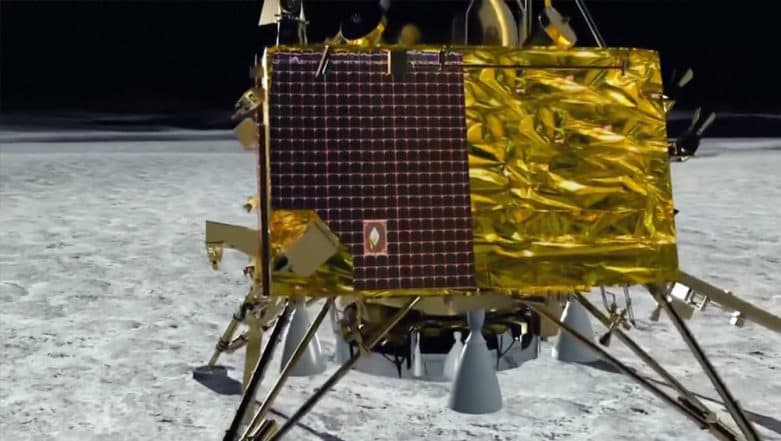 New Delhi, August 2: Chandrayaan-2, India's second mission to the Moon, carrying an orbiter, lander and a rover is now four steps closer to the Moon, after completing its fourth orbit raising activity on August 2, the Indian Space Research Organization (ISRO) said, P Sreekumar, the Director of SSPO, in a  video, explained why Chandrayaan 2 serves to identify the presence of water below the lunar (Moon) surface and how it will be done. Chandrayaan 2 Explained! When Will ISRO's GSLV-Mk III Reach Moon And What Will Happen After That?
In a video released by ISRO on its Twitter handle, Sreekumar explained that the very thin atmosphere of the Moon, called as the surface boundary exosphere, showed water content, as per findings of Chandrayaan-1, which was India's first Moon mission in October 2008. The official said, to further carry on the evolution of Moon, new investigations are needed and high quality data is needed to validate or disapprove theoretical model. And hence, Chandrayaan-2 has been designed to provide new observations to address the pursuit of water and life on Moon. Chandrayaan-2: ISRO Releasing Astonishing Space Images of Earth? Here's a Fact Check.
Here's the Video by ISRO:
On this edition of #RocketScience, P Sreekumar — Director of SSPO — helps us understand why we are going back to the Moon, and how Chandrayaan 2 serves to identify the presence of water below the lunar surfacehttps://t.co/86UfpHg17F

— ISRO (@isro) July 29, 2019
Sreekumar said that the Chandrayaan-2 mission addresses all these issues by using sophisticated infrared spectrometers, x-ray spectrometers and mass spectrometers along with high-resolution cameras. The important thing that the Chandrayaan-2 comes with is the advanced synthetic aperture radar, which has the unique capability to look for water below the surface of the Moon and to ascertain if life is possible there in the near future.
Watch Video: ISRO's Moon Mission Path Explained
The Chandrayaan 2 mission was successfully launched by ISRO in the second attempt on July 22 after a technical glitch forced ISRO to delay the launch on July 15. The spacecraft is scheduled to soft-land its landing module (Vikram) and rover (Pragyan) on the Moon on September 7. The spacecraft has three segments - the Orbiter, which weighs 2,379 kg and eight payloads, the lander 'Vikram', which carries four payloads and weighs 1,471 kg and 27-kg rover 'Pragyan' with two payloads.