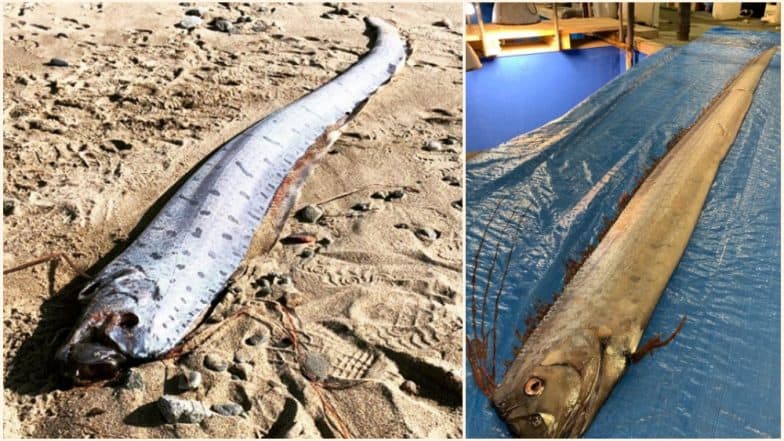 Is doomsday arriving? In the past, this question has often made headlines, but thankfully, none of the predictions was successful. However, the concerns over the natural disasters have increased. A recent viral post has sent Japan's social media into a frenzy. It is the discovery of many deep-sea fishes which traditionally thought to be harbingers of natural disaster. Two oarfish was found tangled in a fishing net off the port of northern region of Toyama. According to media reports, one was found on the shore of Toyama Bay, and the other one was sighted near the port of Imizu. The Doomsday Clock Says We Are Just Two Minutes Away From Apocalypse! What Does it Mean and Should You Be Worried?
Two more of the slender, snake-like fish were discovered in the Toyama Bay, in the past week. The recent findings this season have got the number to seven, raising concern among the Japanese residents over earthquakes and tsunami. The silvery skin snake-like fish is traditionally known as Ryugu no tsukao, meaning the 'messenger from the Sea God's Palace.' According to Japanese legends, the fish beach themselves on shores ahead of underwater earthquakes. Fish That Can Walk Accidentally Discovered in Tasmania: One of the Rarest Fish in the World. 
Picture of Rare Oarfish
View this post on Instagram
Fears of an incoming natural disaster swirl online after the recent sighting. However, scientists dispute such claims. Uozu Aquarium keeper, Kazusa Saiba was quoted in a CNN report as saying, "There is no scientific evidence at all for the theory that oarfish appear around big quakes. But we cannot 100% deny the possibility. It could be that global warming might have an impact on the appearance of oarfish or a reason we're just not aware of."
Saiba in the same report stated one possible scientific explanation. The subtle changes in the Earth's crust at the bottom of the sea of an earthquake, "might cause the current to stir and push creatures at the bottom to the surface." Thousand of Dead Fish Float on Australia's Darling River as Temperatures Rise. 
The myth of oarfish as the harbinger of destruction gained some grip after the 2011 Fukushima earthquake and subsequent tsunami that killed above 20,000 people. Kyodo News reported that at least a dozen oarfish had washed up onto Japan's coastline in the year before the disaster.