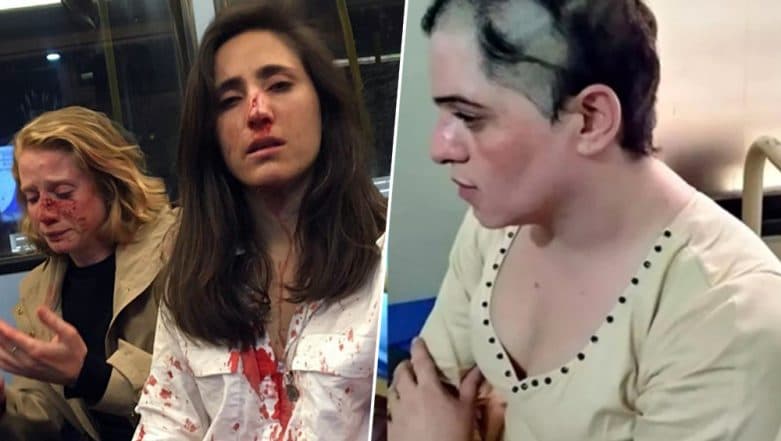 It is June LGBT Pride month, dedicated to the Stonewall riots, June 1969. The Pride month celebrates each and every individual of the LGBTQ+ community, their rights and freedom. But one after the other we are getting to hear of incidents that remind us why we don't deserve humanity on earth. Just recently a horrific homophobic crime was witnessed in London's Camden Town, where a lesbian couple was thrashed by a group of men for not kissing on their demand! Melania Geymonat, a 28-year-old woman was travelling with her girlfriend Chris to Camden Town on May 30 when a group of men began harassing them and asked them to kiss for their entertainment. While 5 teenagers have been arrested in connection to the case, the point remains that even after the decriminalisation of LGBTQ+, people are being subject to such horrific behaviour.
Take a look at the post:
Just days after the attacks on Lesbians in the UK comes, another horrific case from Pakistan of a transwoman who was subject to harassment by a gang of thugs. She was reportedly kidnapped and tortured in Mardan, Pakistan by shaving off her hair after she refused to give them money. Shakeela reportedly used to pay them a consistent amount as a bribe to be able to dance and earn for herself however, the time she denied giving a huge amount to them, they harassed her. Shakeela claims that she was taken out from outside a mosque on the first day of Eid al-Fitr, in Pakistan and that she was held her against her will for three hours. As per reports by the Metro, she was beaten up and her head was shaved after she refused to pay them 1 million rupees (£5,200) that they had asked from her, the Metro reported.
Even though Pakistan has passed the "transgender person protection of Rights Act" in May 2018, but Farzana Jan, the president of TransAction, told Metro.co.uk "the progress and implementation is almost nil'. She added: 'Yes, there is some kind of change at the grassroots level but the challenge of the transgender community all across Pakistan, and especially in Khyber Pakhtunkhwa, remains the same."