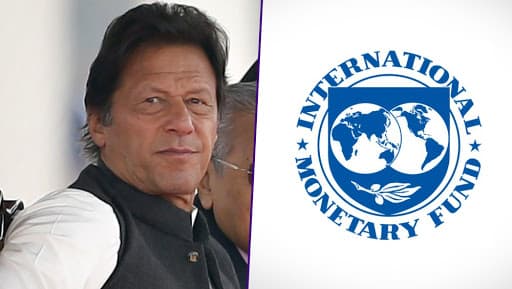 Islamabad, May 7: Debt-ridden Pakistan is making efforts to revive its economy by pushing its efforts to get a financial aid package with the International Monetary Fund. Prime Minister Imran Khan overhauled his economic team by choosing a former official from the Washington-based lender as governor of the nation's State Bank.
Khan named Reza Baqir as head of SBP this weekend - who served in senior positions at the IMF in past 18 years, including as the fund's resident representative in Egypt. Earlier in April, the PTI-led Imram Khan government had replaced Finance Minister Asad Umar as the prime minister's adviser with Abdul Hafeez Shaikh - a former World Bank official. Khan had also sacked Tariq Bajwa along with chief of the tax-collecting agency, Mohammad Jehanzeb Khan. IMF Could Delay Bailout Package for Pakistan Over CPEC Deal. 
Considering the changes, it looks like Pakistan would be in a better position to translate the IMF's message and communicate between the government and the fund comparatively easily, opines chief executive of Arif Habib Corporation Muhammad Arif Habib.
It is to be known that Pakistan had already taken 12 IMF support packages since the 1980s and these new changes would help the South Asian nation to recover from high fiscal and current-account deficits.
As per to the reports, published by Bloomberg, Shaikh would be negotiating with mission chief Ernesto Ramirez Rigo - currently based in Pakistan - and reinitiate the talks with IMF, which were stalled twice in the past over various disagreements. However, the IMF wants Imran Khan's government to raise its tax-to-GDP ratio significantly and contain losses at public enterprises in order to plug financial gaps. US Imposes Sanctions on Pakistan For Refusing to Take Deportees, May Deny Visa 
Pakistan had reached out to friendly nations like China, Saudi Arabia and the United Arab Emirates for help to get it's economy stable, but its worries are not over yet. Pakistan is not only facing slower economic growth and weak revenue collection, but its ability to spend has limited too.
With the new sight of cash funding pouring into Pakistan through IMF, it might result in opening options for budget support from multilateral lenders and improve access to bilateral sources and global capital markets. Pakistan's first yearly budget is due later this month or early in June.