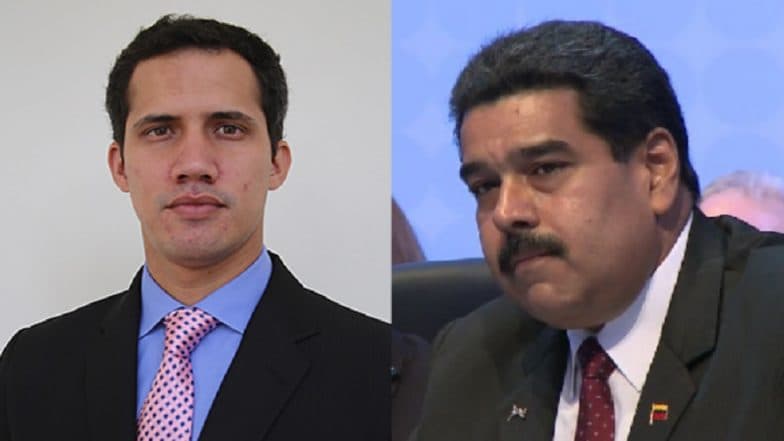 Toronto, February 4: Nine European countries – the UK, France, Spain, Germany, Portugal, Sweden, Denmark, Austria, and the Netherlands have recognised opposition leader Juan Guaido as Venezuela's interim president after the current president Nicolas Maduro rejected their February 3 deadline to call for fresh elections.
While these major countries officially recognised Guaido as Venezuela's ruler, other European countries like Greece and Ireland called for fresh elections but stopped short of recognising him.
While recognising Guaido as Venezuela's president, French President Emmanuel Macron said Venezuelans had the right to "express themselves freely and democratically." He also announced his support for an EU-Latin America contact group which will meet this week to discuss the Venezuela crisis. German Chancellor Angela Merkel said during a visit to Japan on Monday that Guaido "is the legitimate interim president".
Spain's Prime Minister Pedro Sanchez said Venezuela "should be the author of its own destiny". Spain hosts a sizeable Venezuelan population and the government said it was working to organise aid material for Venezuelans as they suffer acute food and medicine shortages.
UK Prime Minister Theresa May's spokesman said that "further steps" were being considered, including the use of sanctions, to coerce Maduro to hold fresh elections.
But, Italy blocked a collective statement that was to be issued by the European Union saying the group recognised Guaido, the Reuters news agency reported citing diplomatic sources.
Meanwhile, Nicolas Maduro remained defiant despite the piling of international pressure as he dismissed calls for fresh presidential polls, saying he would not accept "ultimatums". He has denounced Guaidó's recognition by U.S.-allied countries as a 'gringo' (foreign) coup.
Maduro continues to receive Russia's backing as Moscow responded to the European move by accusing the countries of meddling in Venezuela's domestic affairs.  "Attempts to legitimise usurped power" constituted "interference in Venezuela's internal affairs", Dmitry Peskov, spokesman for President Vladimir Putin, told reporters. Such interference, he added, could not facilitate the "peaceful, effective and lasting settlement of the crisis the Venezuelans are going through".