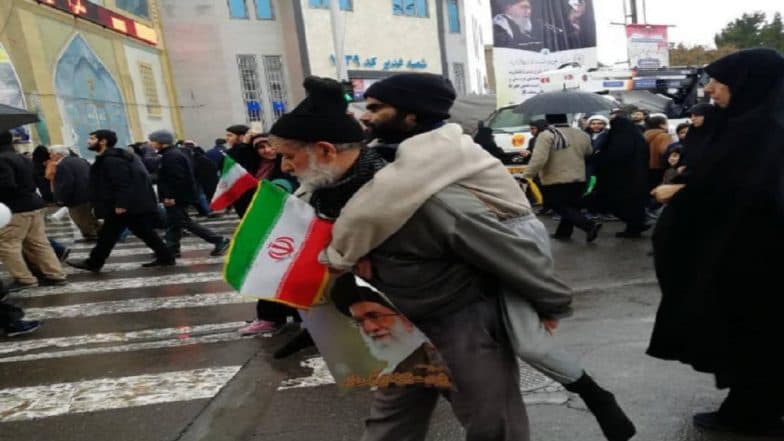 Toronto, February 12: Iran marked the 40th anniversary of the Islamic Revolution even as the country continues to suffer under stifling economic sanctions imposed by the U.S. Iranians celebrated February 11 as the day on which religious leader Ayatollah Ruhollah Khomeini ousted the U.S.-government backed Iranian ruler Mohammad Reza Shah from the country.
February 11 marks the culmination of official celebrations called the "10 Day Dawn"—the period in February 1979 when the revolution's leader Khomeini returned from exile from France and toppled the monarchy.
Iranians on the streets chanted 'death to America' and burnt Israeli flags in the country's Freedom Square on the occasion of the anniversary.
Last week, Supreme Leader Ayatollah Ali Khamenei defended the "Death to America" chants but said they are aimed at America's leaders and not its people. The Iranian people "will not stop saying 'Death to America' as long as the US acts maliciously" toward Iran, Khamenei said, referring to US President Donald Trump.
Iran's Prime Minister Hassan Rouhani spoke to the nation to mark the day and gave a message of defiance. "The presence of people in this celebration means that plots by the enemies... have been defused," Rouhani said in his nationally-televised speech. "They will not achieve their ill-omened aims." Speaking on the U.S.'s threat that more sanctions would be imposed if Iran developed ballistic missiles, Rouhani said, "We have not asked and will not ask for permission to develop different types of ... missiles and will continue our path and our military power," Rouhani said in a speech at Freedom Square. Read: European Union Launches Payment Mechanism to Bypass U.S.'s Iran Sanctions
However, a senior Revolutionary Guards commander took the sloganeering against the U.S. government even further and said that Iran would demolish cities in Israel to the ground if the United States attacked the Islamic Republic. "The United States does not have the courage to shoot a single bullet at us despite all its defensive and military assets. But if they attack us, we will raze Tel Aviv and Haifa to the ground," Yadollah Javani, the Guards' deputy head for political affairs was quoted as saying by state news agency IRNA during the rally at Freedom Square.